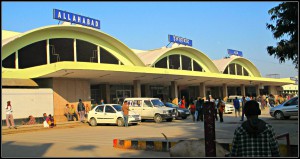 Junction is a railway station on the Howrah-Delhi main line and Howrah-Allahabad-Mumbai line. It is located in Allahabad district in the Indian state of Uttar Pradesh. It serves Allahabad and the surrounding areas. Many important trains pass through this station. All trains from the east going to southward pass through this station.
The East Indian Railway Company initiated efforts to develop a railway line from Howrah to Delhi in the mid nineteenth century. Even when the line to Mughalsarai was being constructed and only the lines near Howrah were put in operation, the first train ran from Allahabad to Kanpur in 1859. For the first through train from Howrah to Delhi in 1864, coaches were ferried on boats across the Yamuna at Allahabad. With the completion of the Old Naini Bridge across the Yamuna through trains started running in 1865-66.
The opening of the Curzon Bridge, across the Ganges, in 1902, linked Allahabad to regions north of or beyond the Ganges.
The Varanasi-Allahabad City (Rambagh) line was constructed as a metre gauge line by the Bengal and North Western Railway between 1899 and 1913. It was converted to broad gauge in 1993-94. Two of the forty-four fastest-running trains in India (Allahabad Duronto Express and Allahabad New Delhi Duronto Express) originate from and terminate in Allahabad Junction.Some of the major trains originating from the station

About Allahabad:
Allahabad  also known as Prayag and Ilahabad, is a city in the Indian state of Uttar Pradesh and the administrative headquarters of Allahabad D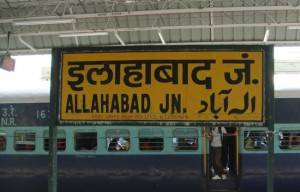 istrict, the most-populous district in the state. As of 2011, Allahabad is the seventh most-populous city in the state, fifteenth in the Northern India and thirty-sixth in India, with an estimated population of 1.11 million in the city and 1.21 million in its metropolitan region. In 2011 it was ranked the world's 130th fastest-growing city.  Allahabad, in 2013, was ranked the third most livable city in the state (after Noida and Lucknow) and twenty-ninth in the country.
Allahabad is noted for historic, cultural and religious tourism. Historic sites include Alfred Park, the Victoria and Thornhill Mayne Memorials, Minto Park, Allahabad Fort, the Ashoka Pillar and Khusro Bagh. Religious attractions include the Kumbh Mela, the Triveni Sangam (sacred in Shaktism) and All Saints Cathedral. The city hosts the Maha Kumbh Mela, the largest religious gathering in the world, every twelve years and the Ardh (half) Kumbh Mela every six years. Cultural attractions include the Allahabad Museum, the Jawahar Planetarium and the University of Allahabad. North Central Zone Culture Center, under Ministry of Culture (India) and Prayag Sangeet Samiti are nationally renowned centers of Arts, Dance, Music, local Folk Dance and Music, Plays/Theatre etc. and nurture upcoming artists. The city has also hosted International Film Festival of Prayag.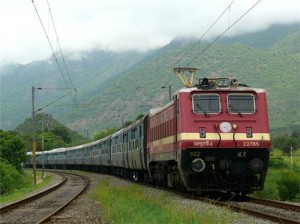 Some Trains Originate and Passes through Allahabad Junction:
12310:Rajendar Nagar Bihar Rajdhani
12570:Jaynagar Garib Rath
22406:RJPB Garib Rath
12309:Rajendar Nagar Bihar Rajdhani
12401:Magadh Express
22405:Bhagalpur Garib Rath
12569:Jaynagar – Garib Rath
15120:Manduadih Rameswaram Express
22684:Lucknow Yesvantpur Super Fast
16360:Patna – Ernakulam Expres
11046:Dikshabhumi Express
19064:Danapur Udhna Express
11038:Gorakhpur – Pune Express
19570:Varanasi – Okha Express
11105: Pratham Swatantrata Sangram Express
Sponsored Links