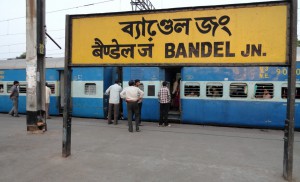 Bandel station is one of the major junction stations of the Kolkata suburban railway network, India. It is situated on the Howrah-Bandel-Barddhaman Main Line with an approximate 40 km distance from Howrah Station. The B.B Loop line connects Azimgunj and Katwa to Bandel and henceforth to Howrah and Sealdah. Bandel is connected to Sealdah and Kolkata station via Naihati Junction
In east India,the first ever train ran from Howrah to Hooghly on 15 August 1854 and Bandel station was started somewhere after that. Bandel station is situated on the west banks of the river Hooghly and it is directly connected to Howrah station. On 21 February 1887 the Jubilee Bridge was constructed over the river Hooghly and thus Bandel and Sealdah was linked together. In 1950s EMU(Electric Multiple Unit) trains started running in between Howrah and Bandel.
Bandel has been functioning as a major junction station of the Howrah-Bandel-Barddhaman Main Line, Sealdah-Naihati-Bandel Main Line and Bandel-Katwa B.B Loop Line since decades. Local and express trains run in these lines. EMU Local trains run from Bandel to Howrah, Naihati, Barddhaman, Katwa, Bally, Memari& Panduah. The trains running between Bandel and Howrah are known as the Bandel locals. More than 72 pairs of Bandel locals run between Bandel and Howrah daily. Other EMU local trains serving this station are Barddhaman locals, Katwa locals, Memari locals, Panduah locals, Naihati-Bandel locals, Sealdah-Katwa and Sealdah-Barddhman locals along with a number of other passenger and express trains. Earlier at Bandel there was a steam loco shed but now it is being used as a goods yard. An EMU car shed is also there near by Bandel Station.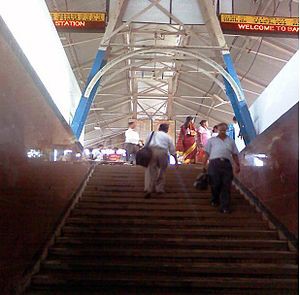 About Bandel:
Bandel founded by Portuguese settlers, is an urban area in Chinsurah-Mogra block in Chinsurah subdivision of Hooghly district in the Indian state of West Bengal. It is under Chinsurah police station and is a part of Kolkata Metropolitan Area . Bandel is a major rail junction station of Eastern Railway, it is 40 km from Howrah station.
Earlier, there was a Portuguese settlement at Bandel. The Church and the Monastery were built around 1660 by the Portuguese. Bandel word derived from Portuguese word mast of ship. Bandel Church is one of the oldest Christian churches in West Bengal and a nice Tourism attraction. It is dedicated to Nossa Senhora do Rosário, also known as "Nossa Senhora da Boa Viagem", meaning "Our Lady of the Good Journey". The keystone of an older church with the year 1599 on it adorns the riverside gate of the monastery attached to it.
At Bandel there are two railway stations, Hooghly railway station and Bandel Junction. Bandel Junction is an important railway station of Eastern Railway and is a model rail station. The station is situated approximately 40 km from Howrah station on the Howrah-Bardhaman Main Line. The Bandel-Katwa meets the Howrah main line, here at Bandel Jn. Another branch line connects Bandel with Sealdah and Kolkata station via Naihati Junction. An EMU car-shed as well as a goods yard is situated in the neighbourhood of Bandel station.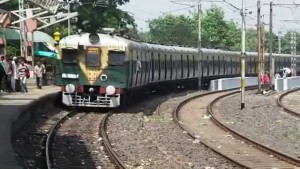 Some Trains Originate and passes through Bandel station
53139:Kolkata – Deoghar Passenger
53049:Howrah – Mokama Passenger
53050:Mokameh – Howrah Passenger
53132:Muzaffarpur – Sealdah Passenger
13106:Ballia – Sealdah Express
53002:Azimganj – Howrah Passenger
13138:Azamgarh – Barrackpore Express
13136:Jaynagar Kolkata Express
13024:Gaya – Howrah Express
63501: Howrah – Barddhaman Junction Fast MEMU Local
13022: Mithila Express
15050: Gorakhpur Kolkata
15048:Purvanchal Express
53004:Malda Town – Howrah Fast Passenger
15052:Gorakhpur Kolkata Express
Sponsored Links