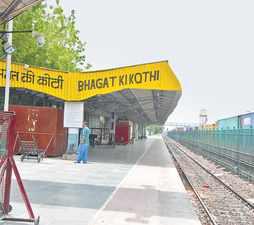 Bhagat Ki Kothi railway station is a railway station on the North Western Railways network in the state of Rajasthan. It is located approximately 3 km from Jodhpur railway station.
The station is point of origin to Thar Express, an international train that connects Karachi, Pakistan to Jodhpur, India.
In February 2006, it was revived after a period of 41 years. In the mean time the lines on both sides had been converted from metre gauge to broad gauge. This enabled the train to run from the border right up to Karachi, which was not possible earlier because there would be a change of gauge in between, either at Hyderabad or Mirpur Khas. The Thar Express is the oldest route, however, because it was damaged in the war it remained closed for 41 years. Upon restoration it became the new train service between the two countries.
Jodhpur- Bikaner Railway was merged with the Western Railway on 5 November 1951. Later North Western Railway came into existence on 1 October 2002.
It is home to one of the largest diesel loco shed housing the powerful WDP 4 locos which power important trains like Ashram Express, Jaipur Duronto Express & Howrah Jodhpur Express.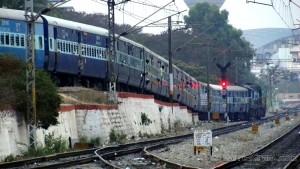 Some Trains Originate and Passes through Bhagat ki Kothi Railway Station:
18244:Bhagat Ki Kothi Bilaspur Express
14889:Jodhpur – Munabao Link Express
74840:Barmer – Jodhpur DMU
16507:Jodhpur Banglore Express
11089:Jodhpur – Pune Express
16533:Jodhpur – Yesvantpur Express
74841:Jodhpur – Bhildi Junction DEMU
15013:Ranikhet Express
25013:Corbett Park Link Express
54801:Jodhpur – Ajmer Fast Passenger
54803:Jodhpur – Ahmedabad Passenger
54813:Jodhpur – Barmer Passenger
74844:Barmer – Jodhpur DMU
14706:Sadulpur – Delhi Sarai Rohilla Express
14803:Bhagat Ki Kothi Ahmedabad Express
Sponsored Links