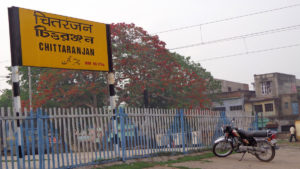 Chittaranjan Railway Station, station code CRJ, is the railway station serving the city of Chittaranjan in the Burdwan district in the Indian state of West Bengal. Chittaranjan Station is connected to metropolitan areas of India, by the Delhi-Kolkata Main Line via Mugalsarai-Patna route. Madhupur is located at 23.87°N 86.87°E. It has an average elevation of 154 metres (505 ft)
The town is named after the Indian freedom fighter, Deshbandhu Chittaranjan Das. The passenger rail head serving Chittaranjan is located in Mihijam, which is in Jharkhand. The Chittaranjan railway station is in Howrah-Patna-Mughalsarai main line at a distance of 237 km from Howrah. Nearest important railway junction is Asansol, 25 km away. Most of the Patna, Barauni bound express trains coming from Howrah, Sealdah, Ranchi, Kharagpur, Tatanagar, Dhanbad stop here.
There are a total of 3 platforms. Platform no. 1 and 2 cater to down trains(Asansol/Dhanbad/Howrah/Sealdah/Kolkata bound trains) though platform no. 2 is predominantly used to the service of express/mail/superfast trains whereas platform no. 1 is used for EMU local trains, passenger trains and low priority express trains. Platform 3 is completely dedicated to up trains(New Delhi/Patna/Jhajha/jasidih/amritsar bound trains). The platforms are connected by an over-bridge covered on either sides to ensure security of the passengers. Beyond platform no. 3 there is a raised platform for loading and unloading goods. This platform serves the freight trains.
The major facilities available are waiting rooms, retiring room and dormitory,computerized reservation counter, 2 Wheeler Vehicle parking.[3] The vehicles are allowed to enter the station premises. The station also has STD/ISD/PCO telephone booth, ATM counter, toilets, tea stall and book stall.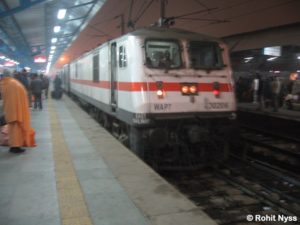 Some trains are originate and passes through Chittaranjan Railway Station:
15028: Maurya Express
13131: Kolkata Anand Vihar Express
18182: Chhapra – Tatanagar Express
13287: South Bihar Express
13186: Ganga Sagar Express
13135: Kolkata Jaynagar Express
13155: Mithilanchal Expres
13157: Tirhut Express
13019: Bagh Express
13132: Anand Vihar Kolkata Express
18181: Tatanagar CPR Express
13288: South Bihar Express
12352: Danapur Express
18449: Baidyanath Dham Express
12331: Himgiri Express
Sponsored Links