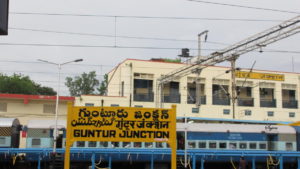 Guntur railway station is an Indian railway station in Guntur of Andhra Pradesh. It is situated on Krishna Canal-Guntur section of Guntur railway division in South Central Railway zone. It is 295th most busiest railway station in India
The first rail lines in Guntur are of Metre Gauge line opened Guntur-Repalle section in year 1916 and later between Guntur and Hubli/Goa.Later a Broad Gauge rail line was built between GNT/VJA towards Howrah with the completion of Prakasam Barrage on River Krishna. By the end of the 20th century Guntur had 4 different railway lines passing through its junction.
The station is spread over an of 43,146 m2 (464,420 sq ft), maintained by 32 employees. There are a total of seven platforms with inter-connected subway system. The station has East and West terminals equipped with reservation counters.
On an average, the passenger traffic of the station stands at 21,238 per day. Everyday, a total of 44 express, 46 passenger and 18 EMU/DMU trains halt at the station. The station annually handles 7.01 MT of cargo and the average income generated by freight transport is ₹20.736 million (US$310,000).
Guntur Junction railway station is an A–category station. It is recognized as a Model station, Adarsh station and Touch & Feel (Modern Stations) in the Guntur railway division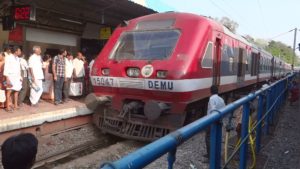 Some Trains are Originate and Passes Through Guntur railway station:
12603:Hyderabad Express
57330:Guntur – Tirupati Passenger
12733:Narayanadri Express
17015:Visakha Express
18048:Vasco Da Gama Howrah Express
22881:Pune Bhubaneshwar Express
07115:Hyderabad – Kollam Sabarimala Special
17256:Narasapur Express
17226:Amaravati Express
17212:Machelipatnam Express
57620:Delta Fast Passenger
56503:Yesvantpur – Vijaywada Passenger
12703:Falaknuma Express
57326:Guntur – Kacheguda Passenger
Sponsored Links