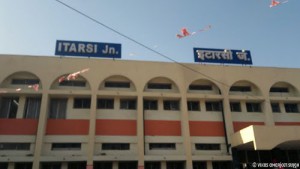 Itarsi Junction  is a railway station in Hoshangabad District in Madhya Pradesh which passes more than 330 trains through it. It falls under the West Central Railway zone of Indian Railways network. It is located 18 kilometres (11 mi) away from Hoshangabad. Trains from Central Railway undergo engine changes here i.e. electric engines of WAP/WAM/WAG class are changed to diesel engines of WDP/WDM/WDG class and vice versa. These changes happen for trains which pass through Jabalpur-Katni-Satna railway line and sometimes for trains which pass through Bhopal.
Itarsi is the only junction in the state of Madhya Pradesh along with Maharashtra, Southern Uttar Pradesh and Chhattisgarh which has stoppage for 330+ trains daily. For instance, Bhopal Junction halts 270 trains followed by Nagpur 240 trains, Jhansi 225 trains, and Bilaspur 125 trains.
Itarsi Junction Railway station is very well connected with rail routes from all four sides. Thus the trains for almost all the Indian destinations such as New Delhi, Mumbai, Kolkata, Chennai, Hyderabad, Bangalore, Pune, Ahmedabad, Kanpur, Patna, Indore, Bhopal, Jhansi,Gwalior, Jabalpur, Lucknow, Varanasi, Agra, Allahabad, Bareily, Dehradun, Jammu, Chandigarh, Amritsar, Ludhiana, Jaipur, Jodhpur, Kota, Ajmer, Ratlam, Ujjain, Rajkot, Surat, Bhuj, Nagpur, Kolhapur, Mysore, Trivandrum, Coimbatore, Ernakulum, Vishakhapatnam, Tirupati, Puri, Bhuwaneswar, Guwahati, Dhanbad, Ranchi, Kannur and others are easily available.
The railway station of Itarsi consist of total 7 platforms. The platform is well furnished to meet up with all the passenger needs and demands. The railway junction provides the following facility at different platforms:
Waiting halls
Ticket counters (reserved and unreserved)
Mineral RO vendors
Cafe
Railway restaurant
Garden
Toilets and sanitation
Over bridge
Railway hospital
Coaching centre
STD booths
Information booths
Luggage room
There is more than a single train to reach many important destinations from Itarsi such as:New Delhi (31 Trains),Mumbai (45 Trains),Kolkata (7 Trains),Chennai (18 Trains), Hyderabad (26 Trains) , Bangalore (18 Trains),Pune (16 Trains),Ahmedabad (12 Trains),Trivandrum (15 Trains),Patna (13 Trains),Kanpur (10 Trains),Lucknow (32 Trains), Jabalpur (63 Trains),Indore (11 Trains),Bhopal (77 Trains Click here for details),Jaipur (14 Trains),Mysore (8 Trains),Puri (2 Trains),Guwahati (3 Trains),Ranchi (2 Trains),Varanasi (22 Trains),Jhansi (52 Trains),Vasco Da Gama (2 Trains)
The tracks on the junction are such that they provide a vast connection to all the four directions.To the north lies the important capital city of Madhya Pradesh, Bhopal. To the east lies another railway junction Jabalpur. To the southwest lies Khandwa and Bhusawal, and to the southeast lies Amla Jn., Betul and Nagpur. The station always holds heavy over-traffic as the trains on the Howrah–Allahabad–Mumbai line and Jhansi – Bhopal Jn. – Nagpur routes cross at Itarsi.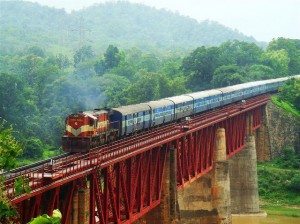 Some Trains are passes and originate through Itarsi Railway Station
12924:Nagpur – Indore Express
15015:Gorakhpur – Yesvantpur Express
11078:Jhelum Express
18244:Bhagat Ki Kothi Bilaspur Express
18246:Bikaner Bilaspur Express
11061:Muzaffarpur Express
11065:Darbhanga Express
11071:Kamayani Express
12791:Secunderabad – Patna Express
11054:Azamgarh Lokmanya Tilak Express
12617:Mangala Lakshadweep
12597:Gorakhpur – Mumbai CST Jansadharan Super Fast Express
12625:Kerala Express
11471:Indore – Jabalpur Express
22103:Lokmanya Tilak – Faizabad Super Fast Express
Sponsored Links