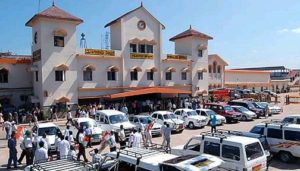 Mangalore Central is the main railway terminus in the city of Mangalore. It is one of the major railway stations in the Karnataka state.Mangalore Central Railway Station Located in Old Kent Road, Hampankatta, Mangalore, Karnataka.
Rail connectivity in Mangalore was established in 1907. A metre gauge railway track, built through the Western Ghats, connected Mangalore with Hassan. The metre gauge track was converted to a broad gauge track connecting Mangalore to Bangalore via Hassan. The re-gauged track was opened to freight traffic in May 2006  and passenger traffic in December 2007
The track network in the Mangalore area is based on a triangular pattern, with Mangalore Central, Mangalore Junction and the Netravati River railway bridge at the vertices of the triangle. A railway siding leads from Mangalore Central to the historic old Railway Goods-Shed in the old Port, Bunder area of Mangalore city. For a year 1929-1930 the longest running train in undivided India originated from Mangalore Central. This was The Grand Trunk Express from Mangalore to Peshawar. The train covered the distance from Mangalore to Peshawar on the Khyber Pass in 104 hours. After 1930 the route of the Grand Trunk Express was curtailed and the train originated from Mettupalayam, Coimbatore.
Trains from here connect the city to prominent state capitals of India like Chennai, Bangalore, Thiruvananthapuram (via Southern Railway), Mumbai (via Konkan Railways) and so forth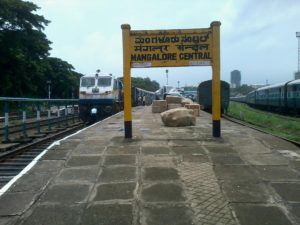 About Mangalore:
Mangalore (Listeni/ˈmæŋɡəlɔːr/), officially known as Mangaluru, is the chief port city of the Indian state of Karnataka. It is known as Kudla in Tulu, Mangaluru in Kannada, Kodial in Konkani, Maikāla in Beary. It is located about 352 kilometres (220 mi) west of the state capital, Bangalore between the Arabian Sea and the Western Ghat mountain ranges. It is the administrative headquarters of the Dakshina Kannada (formerly South Canara) district in south western Karnataka.
It developed as a port on the Arabian Sea—remaining, to this day, a major port of India. Lying on the backwaters of the Netravati and Gurupura rivers, Mangalore is often used as a staging point for sea traffic along the Malabar Coast. The city has a tropical climate and lies in the path of the Arabian Sea branch of the South-West monsoons. Mangalore's port handles 75 per cent of India's coffee and cashew exports. Mangalore was ruled by several major powers, including the Kadambas, Alupas, Vijayanagar Empire, Keladi Nayaks and the Portuguese. The city was a source of contention between the British and the Mysore rulers, Hyder Ali and Tipu Sultan. Eventually annexed by the British in 1799, Mangalore remained part of the Madras Presidency until India's independence in 1947. The city was unified with the state of Mysore (now called Karnataka) in 1956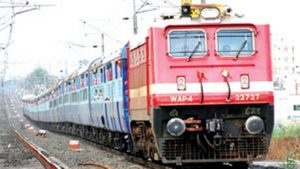 Some trains are originate and passes through Mangalore Central Railway Station:
22633: Nizamuddin Express
12618: Mangala Lakshadweep Express
10215: Madgaon – Ernakulam Express
22654: Hazrat Nizamuddin Trivandrum Super Fast Express
22656: Hazrat Nizamuddin Trivandrum Super Fast Express
12218: Kerala Sampark Kranti
12484: Amritsar – Kochuveli Express
12977: Maru Sagar Express
16312: Bikaner Express
16334: Veraval Express
16336: Gandhidham Express
16338: Okha Express
19259: Trivandrum Kochuveli – Bhavnagar Express
19262: Porbandar – Kochuveli Express
22660: Dehradun Trivandrum Kochuveli Super Fast Express
16649: Parasuram Express
Sponsored Links