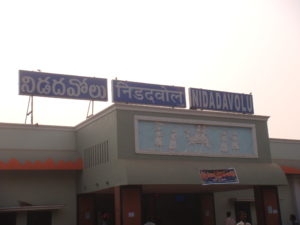 Nidadavolu railway station, located in the Indian state of Andhra Pradesh, serves Nidadavolu in West Godavari district. It is administered under Vijayawada railway division of South Central Railway zone. It was 300th most busiest railway station in India.
Nidadavolu railway station is a 'B' category station and also recognized as Model station in the Vijayawada railway division.
Between 1893 and 1896, 1,288 km (800 mi) of the East Coast State Railway, between Vijayawada and Cuttack, was opened for traffic. The southern part of the East Coast State Railway (from Waltair to Vijayawada) was taken over by Madras Railway in 1901
SCR recently installed Automatic Ticket Vending Machines (ATVM)s in this station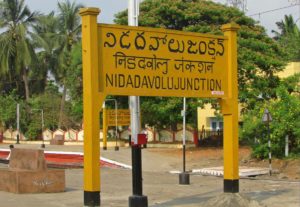 About Nidadavolu:
Nidadavolu is a town in West Godavari district of the Indian state of Andhra Pradesh. It is a municipality and the mandal headquarters of Nidadavolu mandal in Kovvur revenue division.
Nidadavolu was a fort surrounded by water bodies (Jaladurgam) of Eastern Chalukyan kings. Chalukya Bhima, the builder of Draksharama Bhimeswara temple won this land from Rastrakutas, the then ruling dynasty. A prince of Nidadavolu, Veerabhadra Chalukya, married Rani Rudrama Devi, a prominent ruler and the warrior queen of the Kakatiya dynasty. He fought several wars along with his wife and is hailed as a brave prince. It had 108 Siva temples, many of them were totally destroyed by Muhammad bin Tughluq in 1323. Even today, one can find the remains of the destroyed sculptures. A Nandi statue belonging to the 13th century placed in Sri Golingeswara temple was discovered recently.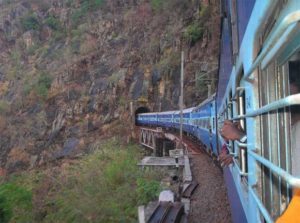 Some trains are originate and passes through Nidadavolu Junction railway station:
57230:Visakhapatnam – Machelipatnam Passenger
12728:Godavari Express
57229:Machelipatnam – Visakhapatnam Passenger
57272:Rayagada – Vijayawada Passenger
11020:Konark Express
17016:Visakha Express
17479:Puri Tpty Express
17481:Bilaspur Tirupati Express
67262:Rajamundry – Vijayawada MEMU
17209:Seshadri Express
12738:Goutami Express
17487:Tirumala Express
77242:Rajahmundry – Bhimavaram DMU
57232:Kakinada Port – Vijayawada Passenger
17643:Circar Express
Sponsored Links