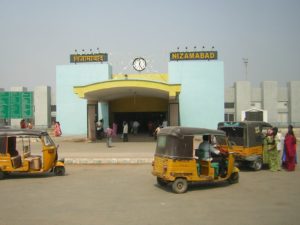 Nizamabad Junction Railway Station is an A-Category railway station which serves the city of Nizamabad, Telangana, India. It is a major station on Secunderabad-Manmad railway line, also serving as the junction point for Secunderabad, Peddapalli, Jankampet/Mudkhed Junctions. The station falls under Hyderabad railway division of South Central Railway which is one of the zones of Indian Railways. Due to overgrowth on the western side of the city, the Jankampet Junction railway station on west corridor falls under Nizamabad.
The Nizam of Hyderabad ruled over the Deccan region during 18th century and under his reign the railway line between Secundrabad and Manmad was constructed in the year 1905. The railway station was named after then ruler of the Nizam state Nizam-ul-Mulk as Nizamabad. On 30 June 2004 the SCR operated the last metre gauge train on the Nizamabad–Manoharabad line bringing to an end the metre gauge services which started in the 1930s on the Secunderabad–Manmad line of the Nizam's State Railways (formerly Hyderabad-Godavari Valley Railways)
Nizamabad has rail connectivity with almost all the major cities of India like Secunderabad, Mumbai, Banglore, Chennai, Visakhapatnam, Warangal, Kazipet, Manmad, Vijayawada, Rajahmundry, Guntur, Kurnool, Tirupati, Erode, Pune, Aurangabad, Ahmedabad, Surat and Bhopal. It has frequent connectivity to Nanded and Kacheguda.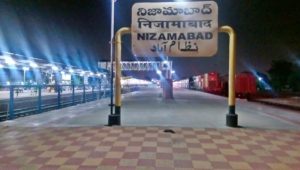 The Zonal Railway has identified the station for development of Multi Functional Complex adjoining to the Station Building.
The Proposed Multi Functional Complex will provide state of the art facilities to the passengers and public at large which shall include services like, Food Courts, Quick Service Restaurants, Cloak Rooms, Fully Operational Hotel with Banquet Hall, Convenient Stores, Shops, Medical outlets, State of the Art, fully air conditioned Dormitories and many other services.
The facility is getting developed on PPP basis and the bidding process is over and the private concessionaire has been appointed for the project. Once operational the services offered to the passengers will be unparalleled in the Zone. The proposed Multi Functional Complex will change the face of Nizamabad Railway Station and will impact the overall development of the city.
As of June 2015, P.K.Srivastava the General Manager of Hyderabad Division along with Ms. K.Kavitha, Hon'ble Member of Parliament of Nizamabad have inaugurated several passenger amenities/facilities including Automatic Ticket Vending Machines facility (ATVM), foundation for development of Nizamabad station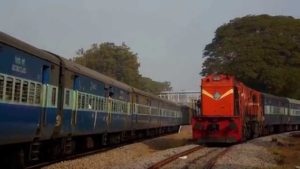 Some Trains are originate and Passes through Nizamabad Junction:
17405: Krishna Express
17417: Tirupati – Sainagar Shirdi Weekly Express
19714: Secunderabad – Jaipur Express
17231: Narsapur – Nagarsol Express
18503: Visakhapatnam Shirdi (Sainagar Shirdi) Express
17406: Krishna Express
57564: Nanded Hyderabad Passenger
16003:Chennai Nagarsol Express
16733:Rameswaram – Okha Express
19302: Yesvantpur – Indore Express
17019: Ajmer – Hyderabad (Weekly) Express
19713: Jaipur – Secunderabad Express
57563: Hyderabad – Parbhani Passenger
57689: Nizamabad – Kacheguda Passenger
17063: Ajanta Express
Sponsored Links