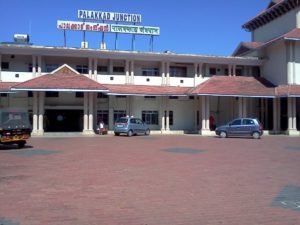 Palakkad Junction (formerly known as Olavakkod Junction, STN CODE:PGT) is a railway station in Kerala state, India situated in the city of Palakkad. It is located at 4 km from Palakkad Municipal Bus Terminus. The station falls in the Palakkad railway division of the Southern Railway zone of the Indian Railways.
Palakkad Junction is located on Coimbatore – Shoranur railway line and is the terminating point for the Palakkad-Pollachi rail line. The other station serving the city is Palakkad Town Railway Station. The station is served by 4 platforms, Platforms 1 and 2 are used for trains going towards Shoranur and Thrissur and 3 and 4 are mainly used for trains going towards Podanur side. One more platform on the southern side (main entrance side) is nearing completion, which will take the total number of platforms to 5. With the completion of gauge conversion on the Palakkad Town – Pollachi Jn sector, trains from central and south Tamilnadu will get easy access to Konkan route via Palakkad Jn. This will reduce the distance as well as running time between these Tamilnadu locations and the northern/western cities of our country and will result in tremendous increase in traffic in this station. Also a MEMU shed operating in this station to maintain the suburban trains running between Shornur and Erode. Palakkad railway junction is one of the cleanest stations of Kerala. It is also home to one of the longest platforms in Southern Railway with Platform No:2 extending just beyond 1 kilometer. With inclusion in the list of stations to be upgraded, its poised to become ultra-modern in coming years. The station has in the recent past got modern amenities like multiple number of passenger lifts and an escalator. Olavakkode is a satellite town of Palakkad and is located on NH 213 which connects Palakkad to Kozhikode.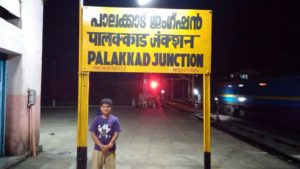 About Palakkad :
Palakkad About this sound pronunciation (help·info), also known as Palghat, is a city and municipality in the state of Kerala in southern India, spread over an area of 26.60 km2 and is the administrative headquarters of the Palakkad District. In earlier times, Palakkad was known as Palakkattussery. Palakkad is the seventh most populous town in Kerala and lies near the Palghat Gap. Malayalam is the generally spoken language in Palakkad as it is the official language. The city is situated about 350 kilometres (217 mi) north of state capital Thiruvananthapuram and 54 kilometers south west of Coimbatore, and 66 km north east of Thrissur on the Salem-Kanyakumari National Highway NH 47.
There are two railway stations serving Palakkad – Palakkad Junction is a broad gauge railway junction (located at Olavakkode, which can be called a satellite town, about 4 km from the heart of the main town) and Palakkad Town railway station located in the heart of the Palakkad town. Close to Palakkad Junction is the office of Palakkad Railway Division. The cities of Coimbatore, Erode, Salem, Thiruvananthapuram, Kollam, Kozhikode and Ernakulam are connected by the broad gauge line. Train services to Pollachi, Dindigul and Madurai are through the broad gauge line through Palakkad Town station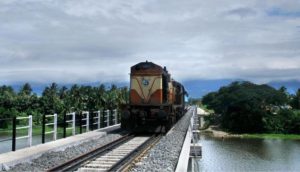 Some Tratins Originate and Passes through Pallakkad Junction:
12258:Yesvantpur Express
22207:Trivandrum Duronto Express
12695:Trivandrum Express
12696:Trivandrum Chennai Express
16315:Kochuveli Express
16188:Ernakulam – Karaikal Express
12685:Mangalore Express
16359:Ernakulam Patna Express
16566:Mangalore – Yesvantpur Express
16855:Puducherry – Mangalore Express
16855:Puducherry – Mangalore Express
22851:Santragachi – Mangalore Central Super Fast Vivek Express
12684:Ernakulam Super Fast Express
22608:Ernakulam Super Fast Express
22475:Bikaner – Coimbatore AC Super Fast Express
16187:Karaikal – Ernakulam Express
22475:Bikaner – Coimbatore AC Super Fast Express
22208:Trivandrum – Chennai Duronto Express
16857:Pondicherry – Mangalore Express
17606:Kacheguda Mangalore Express
18568:Kollam Visakhapatnam Express
Sponsored Links