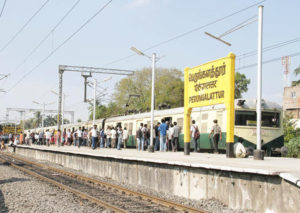 Perungalathur railway station is one of the railway station of the Chennai Beach–Chengelpet section of the Chennai Suburban Railway Network a suburb of Chennai. It serves the neighbourhoods of Perungalathur and Peerkankaranai. It is situated about 32 km from Chennai Beach and has an elevation of 26 m above sea level
The station has two platforms. The platforms in the station can presently accommodate only 12-car rakes. In 2012, Southern Railway began renovating the station, including expansion of the platforms to accommodate 12-car rakes. There are two level crossings, namely, LC No. 32 on the northern end and LC No. 33 on the southern end, on either side of the station, a few metres away from the platforms. LC No. 32 comes within the Peerkankaranai Town Panchayat limits and LC No. 33 comes under the jurisdiction of Perungalathur Town Panchayat. So the Railways has decided to build a mini platform to accommodate three coaches without closing either level crossings. This would be in use until both the level crossings are replaced by road over bridges.
As of 2012, 84 trains halt at the station and about 10,000 commuters use the station daily. Per a traffic census conducted in March 2006, LC No. 32 witnessed a traffic flow of 861,000 train vehicle units and LC No. 33 witnessed 743,000 train vehicle units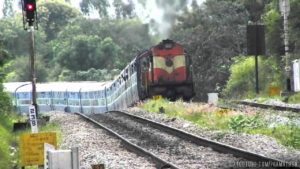 In 2011, a road overbridge was planned to replace LC-32. The ramps of the overbridge would descend on the proposed ₹ 500-million Eastern Bypass project connecting Velachery Main Road at Rajakilpakkam and GST Road near the station. A pedestrian subway was also planned to replace LC-33.
The lines at the station were electrified on 9 January 1965, with the electrification of the Tambaram–Chengalpattu section
About Perungalathur:
Perungalathur Perungalathur is a residential locality in Southern part of the metropolitan city of Chennai in the Indian state of Tamil Nadu.It is a neighbourhood in the southwestern part of Chennai city.It is around 3 km from Tambaram. The neighbourhood is served by Perungalathur railway station of the Chennai Suburban Railway Network.
Perungalathur railway station is about 30 km from Chennai Central. Southern Railway is currently renovating and expanding the station, including extension of platforms. The two existing platforms were laid during the British era when most trains had nine compartments and are now being extended to accommodate 12-car trains. Currently, over 10,000 commuters use the station daily. All 84 suburban trains halting at the station have 12 compartments. A new rail line exclusively for express trains is also planned.
Sponsored Links