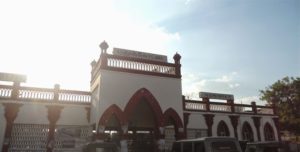 Pudukkottai railway station is a railway station located in Pudukkottai town, serving the people of Pudukkottai District in Tamil Nadu. It is the only major railway station in the district.
It falls under the operational limits of Madurai Railway Division of the Southern Railway Zone and it is a major as well as an important passing station present on the Tiruchirappalli- Karaikkudi railway line. It is under the station category C. As early as 1886, a plan to link Pudukkottai by rail with Trichy and other places was mooted. But as the princely state of Pudukkottai was ruled by a king while most other parts of South India were under the British, protracted negotiations between these two authorities took place, specially with regard to the cost-bearing of the proposed railway line. Later, in 1921, a traffic-survey of the proposed Tiruchirapalli- Pudukkottai- Karaikudi- line was prepared by Rao
Sahib S. Krishnamachari of South Indian Railways (SIR). It was estimated that the cost of construction of the railway line would work out to Rs 1.32 lakhs per mile. After a brief period of construction, the Trichy- Pudukkottai line was inaugurated on 17 April 1929 and Pudukkottai- Manamadurai line on 1 July 1930.
All the trains bound to Karaikkudi, Manamadurai and few trains bound to Rameswaram and Kanyakumari from Chennai Egmore and Tiruchirappalli pass through this station. All the trains have a stoppage here for a minimum of 1–2 minutes.
Some trains are Originate and passes through Pudukkottai railway station
16714: Rameswaram Chennai Express
16618: Coimbatore – Rameswaram Express
15119: Rameswaram Manduadih Express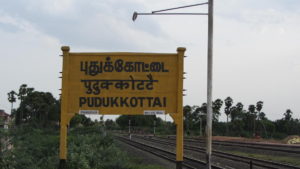 16181: Silambu Express
12606: Pallavan Express
12606: Pallavan Express
16101: Chennai – Rameswaram Express
76830: Karaikkudi – Trichy DEMU
56829: Tiruchirappalli – Rameswaram Passenger
76840: Karaikkudi – Tiruchirappalli DEMU
76807: Tiruchchirapalli – Manamadurai DEMU
18495: Bhubanewwar Express
76808: Manamadurai – Tiruchhcirapalli DMU
76839: Trichy – Karaikudi DMU
18496: Bhubaneshwar – Rameswaram Express
16861: Pondicherry – Kanyakumari Express
15120: Manduadih Rameswaram Express
56830: Rameswaram – Tiruchirappalli Passenger
76831: Tiruchchirapalli – Karaikkudi Passenger
16862: Kanyakumari – Pondicherry Express
Sponsored Links