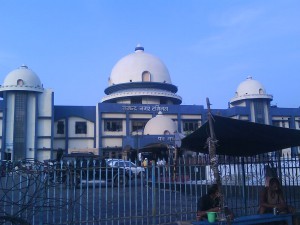 Rajendra Nagar Terminal, station code RJPB, is the railway station serving the capital city of Patna in the Indian state of Bihar. It is located in Rajendra Nagar in Patna and is in the Danapur railway division of the East Central Railway zone of the Indian Railways. The city is a major railway hub and has six major stations: Rajendranagar Terminal, Patna Junction, Gulzarbagh Station, Danapur Station, Patliputra Junction and Patna Sahib Station.
It has a canteen on platform number 1 serving a preset menu. Vegetarian food packets are also available if you want to pack some light lunch for the journey ahead for a very economical price. Snacks counter serving tea, Samosa, Coffee etc. are present on platform number 1,2 & 3.Coolie is also available on various platforms. Trollies are available upon request if you are carrying heavy luggage. For going to other platforms it has two overhead bridges.
It was developed as an alternative railway station as part of measures to decongest Patna Junction Railway Station. Many trains such as New Delhi Rajdhani Express – Rajendranagar, Indore – Patna Express, Indore – Rajendra Nagar Via. Faizabad Express, Shramjeevi Express, Sampoorna Kranti Express, etc. originate from here.
It was inaugurated on 31 March 2003 as a full-fledged station. Built at a cost of ?8.61 crore, this terminus developed as an alternative to Patna Junction, has all modern facilities for the passengers. Its main entrance is opposite the College of Commerce, Patna. Lalu also unveiled a statue of Dr Rajendra Prasad at Rajendra Nagar Terminal after whom this station has been named.
Lalu Prasad Yadav, then Union Railway Minister, also flagged off the first stainless steel fully covered wagons (BCNHL) train from Rajendra Nagar Terminal. Though the station is new it is not completely disabled friendly. It has a ramp.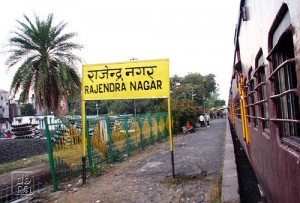 About Rajendra Nagar:
Rajendra Nagar (often spelled Rajender Nagar) is a neighbourhood in Patna, Bihar, India. It is named after Dr. Rajendra Prasad, the first President of India. It is spread between Kumhrar road and Nala road from Dinkar golambar and Ramakrishna Avenue to Saidpur road. This area is served by Kadamkuan PS of Patna Police.
Rajendra Nagar is a planned colony divided by numbered roads. It has several open spaces like Parks and playing fields. Rajendra Nagar also hosts the biggest stadium of Bihar, Moin-ul-Haq Stadium[3] (formerly Rajendra Nagar Stadium). In Rajendra Nagar one can find a variety of commercial establishments. Bank Branches, Hospitals, Hotels, restaurants, retail branded outlets etc. It is connected to Kankarbagh by Rajendra nagar over bridge. McDowell Golambar is a famous landmark of this locality
Rajendra Nagar Terminal is the railway station for the Rajendra Nagar. It connects to many metropolitan cities of India by the Howrah-Delhi Main Line. The important trains include the Rajendra Nagar (Patna) Rajdhani Express, Rajendranagar Express (Patna- Mumbai), Patna- Indore Express etc.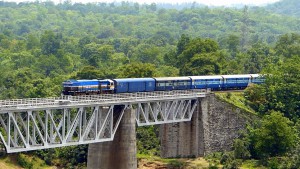 Some trains Origin and Passes through Rajendra Nagar Terminal:
03652 Gaya Jsme Mela
03303 Dhn Pnbe Spl
13245 New Jalpaiguri Capital Express
13247 Kamakhya Danapur Capital Express
13483 Malda Town Farakka Express
13413 Malda Farakka Express
13236 Danapur Intercity Express
12351 Danapur Express
13415 Malda Town Patna Express
13236 Danapur Intercity Express
12351 Danapur Express
12310 Rjpb Rajdhani
13111 Lal Quila Exp
18184 Danapur Tatanagar Express
28624 Barka Kana Rajendranagar Express
12355 Archna Express
13226 Danapur To Jaynagar Intercity Express
12394 Sampoorn K Exp
13252 Rjpb Ipr Expres
15281 Saharsa koshi express
13202 Lokmanyatilak T Rajendranagar Express
12391 Shramjeevi Exp
Sponsored Links