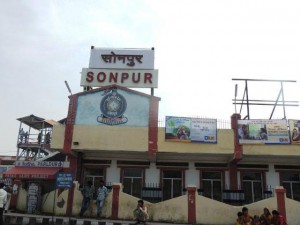 Sonpur Junction, station code SEE, is a railway station and the headquarters of the Sonpur division of East Central Railway. Sonpur Junction is located in Sonpur city in Saran district in the Indian state of Bihar.
In 2011, the Sonpur Junction was given a facelift with a wider approach roads and greenery in and around the station premises at the cost of 20 million (US$300,000). The work on doubling of tracks on 7 kilometres (4.3 mi) tracks between Sonpur and Hajipur has been carried on since past few years and is set to be completed by the end of 2012.
The major facilities available are Waiting rooms, computerised reservation facility, Vehicle parking.[6] The vehicles are allowed to enter the station premises. The station also has STD/ISD/PCO Telephone booth, toilets, tea stall and book stall. The passenger reservation system, booking counters and unreserved ticketing system are provided with air-conditioning facility.
There are 6 platforms at Sonpur Junction. The platforms are interconnected with foot over bridges (FOB). The length of the platforms were increased in 2011 to accommodate 24-coach trains.
Being the divisional headquarters, all the trains passing through this route have stoppages here. Several electrified local passenger trains and express trains run from Sonpur to neighbouring destinations.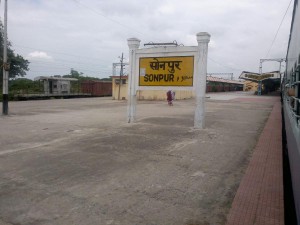 About Sonepur:
Sonpur is a town in the Indian state of Bihar, situated on the banks of the River Gandak in Saran district in the Indian state of Bihar. It hosts one of the world's largest Animal Fair which starts on Kartik Poornima. Nearest Hajipur Vaishali is only 3 km and connecting by road NH-19 or by train Jagjivan bridge for double line railway bridge
The river Gandak must have been the route of the movement of Buddha and his followers from Nepal Tarai to Magadh that is why many of the stupas and similar structures, including Ashoka pillars, are found on the banks of the river. The location of Pathar ki Maszid just opposite the meeting point of the gandak, that is southern bank of the Ganges, shows the Muslim influence of trade and commerce in medieval times. The current township Patna is just the modern version of the makeshift headquarters of military establishments of old Patna city which in turn was later version of Pataliputra, the capital of Maurya Empire.
Of the ten railway stations in the world having the longest railway platforms, Sonepur being on the 8th (and 2nd longest at the time of construction) longest platform in the world at 2,415 ft (736 m). It is connected by two rivers, the Ganges and the Gandak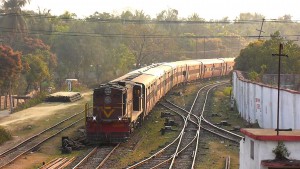 Some Trains are originate and passes through Sonepur Junction:
13137:Barrackpore – Azamgarh Express
12521:Rapti Sagar Express
15270:Jan Sadharan Express
15652:Lohit Express
15268:Mumbai LTT – Raxaul JanSadharan Express
11033:Darbhanga Express
15204:Lucknow – Barauni Express
15910:Avadh Assam Express
14015:Sadbhawana Express
14005:Lichchavi Express
15708:Amritsar-Katihar Express
15210:Amritsar- Saharsa Jan Seva Express
13138: Azamgarh – Barrackpore Express
13019: Bagh Express
Sponsored Links