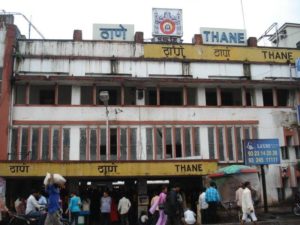 Thane is a major railway station on the Central line of the Mumbai Suburban Railway network. It is one of the busiest railway station in India. Thane was ranked as the busiest railway station on the Mumbai suburban network, followed by Andheri and Kalyan. As of 2013, Thane railway station handles 650,000 people daily.Calculated by officials counting number Of every people Entering and exiting the station in 2013. More than 1,000 trains visit the station each day, including 130-140 long distance trains.
The station has ten platforms; platform numbers 1 to 4 are reserved for slow trains and platform numbers 5 to 8 for fast trains & long distance trains, 9 and 10 for trains going towards Vashi, Nerul & Panvel.
Thane was the terminus for the first ever passenger train in India. On 16 April 1853, the first passenger train service was inaugurated between Bori Bunder (Now renamed Chatrapati Shivaji Terminus), Mumbai, and Thane. Covering a distance of 34 kilometres (21 mi), it was hauled by three locomotives: Sahib, Sindh, and Sultan.
Trans-Harbour line: Thane – Vashi/Nerul/Panvel local train line. This line runs many trains between Thane and Vashi, the principal node of Navi Mumbai, passing through Airoli, Ghansoli, Kopar Khairane, Turbhe and Sanpada. Since February 2010 new fast trains have started between Thane Panvel- Stopping at Kopar Khairne, Nerul, Belapur CBD and Kharghar. It is the origin and destination point of all the Trans-harbour local suburban trains. But however, In 2016 the fast trains network is halted and further converted to slow trains.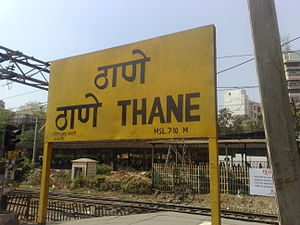 In Thane most long distance express trains halt after Mumbai CST, Dadar (Central), Kalyan & Karjat / Kasara. Almost all trains going to Konkan railway from Mumbai stop at Thane. Most trains going to Pune and Nasik Road stop at Thane. If any train does not stop at Thane then Kalyan or Dadar is the nearest station.
About Thane:
The city crops up again in the Middle Ages and slabs and copper plates dating back to the period have been discovered in Thane. One of them, dug up from the foundations of Thane Fort in 1787, dated 1078 AD, is apparently a land grant from Arikesara Devaraja, sovereign of the city of Tagara, wherein he address the inhabitants of a city called Sri Sthanaka.
Friar Jordanus visited Thane between AD 1321 and 1324, and described it as being under a Muslim governor. He left a detailed sketch of Nestorian Christians in Thane and refers to the martyrdom of four Christian (Franciscan) friars in the region, nearly 200 years before the Portuguese set foot in India. The celebrated Ibn Battuta and Abul Feda, contemporaries of Friar Jordanus, also came here. They refer to Thane as Kukin Tana and speak of its fame as a port from which ships sailed to the gulf carrying a kind of cloth called 'Tanasi' which was produced in Thane. Duarte Barbosa, a noted traveller, described Thane by the name Tana Mayambu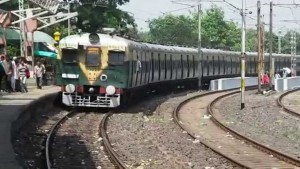 Some trains are originate and passes through thane railway station:
11057:Amritsar Express
11003:Rajya Rani Express
11043:Madurai Express
11093:Mahanagari Express
01021:Mumbai CST – Karmali Specialfare Ganpati Special
22115:Lokmanya Tilak Karmali Railway Station AC Super Fast
01003:Mumbai CST – Karmali Specialfare Ganpati Special
11028:Mumbai Mail
11062:Muzaffarpur – Mumbai LTT Express
11066:Darbhanga – Mumbai LTT Express
11020:Konark Express
11058:Amritsar – Dadar Express
51028:Pandharpur – Mumbai
51028:Pandharpur – Mumbai Fast Passenger
51030:Bijapur – Mumbai Fast Passenger
Sponsored Links