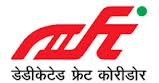 Advt. No. 10/2016 & 11/2016
Dedicated Freight Corrider of India Limited
5th Floor, Fragati Maiden Metro Station Building Complex,
New Delhi -110001
As a result of the walk-in-interview held on 27.08.2016 at Delhi, Ahmedabad and Kolkata for the post of Finance Officer and Junior Finance Officer vide Advt. No. 10/2016 and 11/2016 at Allahabad on 03.09.2016, the following candidates have been provisionally selected for medical examination
Name of Post: Finance Officer
No of Selected Candidates: 05
Name of Post: Junior Finance Officer
No of Selected Candidates: 04
For medical examination, information has been sent by email. No additional time will be given and the candidature of the candidates for not reporting on the scheduled date of medical examination is liable to be cancelled and candidates will be considered from standby list.
Journey fare for medical examination will NOT be admissible. It should be noted by the candidates that merely calling the candidates for medical examination shall not in any way entitle them any right /claim for empanelment or appointment in DFCCIL.
E-mails to individual candidates have been sent but DFCCIL will not be responsible for delay or wrong delivery, if any. The candidates who do not get the letter for medical examination may contact the HR Department of Corporate Office of DFCCIL (Tel. No. 011- 23454673 / 675/ 676/ 674) during working hours.
While every care has been taken in preparing the above results, the possibility of inadvertent errors cannot be ruled out. DFCCIL does not undertake responsibility of such errors and reserves the right to rectify the same later on
DOWNLOAD RESULT
click above to download
the result published
Sponsored Links