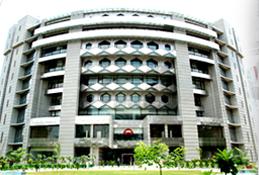 Introduction
For implementation and subsequent operation of Delhi MRTS, a company under the name DELHI METRO RAIL CORPORATION was registered on 03-05-95 under the Companies Act, 1956. DMRC has equal equity participation from GOI and GNCTD.
Mission
To cover the whole of Delhi with a Metro Network by the year 2021.
Delhi Metro to be of world class standards in regard to safety, reliability, punctuality, comfort and customer satisfaction.
Metro to operate on sound commercial lines obviating the need for Government support.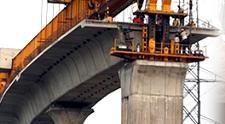 Our Corporate Culture
We should be totally dedicated and committed to the Corporate Mission.
Personal integrity should never be in doubt, we should maintain full transparency in all our decisions and transactions.
The Organization must be lean but effective.
The Corporation must project an image of efficiency, transparency, courtesy and "we mean business" attitude.
Our construction activities should not inconvenience or endanger public life nor should lead to ecological or environmental degradation.
All our structures should be aesthetically planned and well maintained.
Safety of Metro users is our paramount responsibility.
Our stations and trains should be spotlessly clean.
Our staff should be smartly dressed, punctual, polite and helpful to the customers.
Employees should discharge their responsibilities with pride, perfection and dignity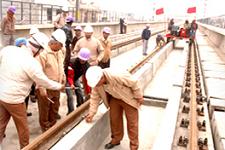 Delhi Metro is a world class Metro
Delhi Metro is a world-class metro. To ensure reliability and safety in train operations, it is equipped with the most modern communication and train control system. It has state-of-art air-conditioned coaches. Ticketing and passenger control are through Automatic Fare Collection System, which is introduced in the country for the first time. Travelling in Delhi Metro is a pleasure with trains ultimately available at three minutes frequency. Entries and exits to metro stations are controlled by flap-doors operated by 'smart-cards' and contact less tokens. For convenience of commuters, adequate number of escalators are installed at metro stations.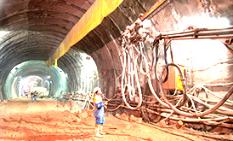 Unique feature of Delhi Metro is its integration with other modes of public transport, enabling the commuters to conveniently interchange from one mode to another. To increase ridership of Delhi Metro, feeder buses for metro stations are Operating. In short, Delhi Metro is a trendsetter for such systems in other cities of the country and in the South Asian region.
TRAINING SCHOOL
A training school for Metro Operating and Maintenance Staff has been set up at Shastri Park. Under an agreement with the Hong Kong Metro Railway, 60 employees of DMRC have been trained on their system. These employees after completing their training, have returned and have trained the staff locally recruited for Delhi Metro.
Regular training is held for new recruits through induction programmes apart from refresher training for experienced employees in all categories of staff including Train operators, Station controllers, maintenance Staff etc
JOBS in DELHI METRO
click above to know about
current recruitment in delhi metro
Sponsored Links