Background
A production unit of Indian Railways, DLW was set up in collaboration with Alco, USA, in 1961 and commenced manufacturing in 1963. It has so far supplied over 5,000 locomotives, mainly to Indian Railways but also including 342 locomotives for non-railway customers such as power plants, port trusts and industrial users. DLW has recently had its quality standards upgraded to ISO 9001-2000, having been awarded ISO 9002 certification in 1997. It has also been awarded ISO 14001, integrated ISO 9001 and OHSAS-18001:1999 certification.
Products
Diesel-electric locomotives for 1,676 mm (broad gauge), metre gauge and their components. The company is also capable of designing and manufacturing hi-tech microprocessor controlled DG sets with fault diagnostics systems from 0.8 to 2.4 MW capacity. To date, 53 high capacity diesel generating sets have been manufactured, including 12 DG sets of 2.4 MW for Nuclear Power Corporation of India Ltd.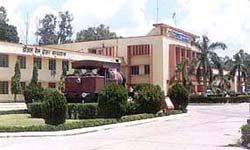 About DLW

A flagship production unit of Indian Railways offering complete range of products in its area of operation with annual turnover of over 2124 Crore.
State of the art Design and Manufacturing facility to manufacture 200 locomotives per annum with wide range of related products viz. DG Sets, Loco components and sub-assemblies.
Supply of spares required to maintain Diesel Locomotives and DG sets.
Unbeatable trail-blazing track record in providing cost-effective, eco-friendly and reliable solutions to ever increasing transportation needs for over four decades.
Fully geared to meet specific transportation needs by putting Price – Value – Technology equation perfectly right.
A large base of delighted customers among many countries viz. Myanmar, Sri Lanka, Malaysia, Vietnam, Bangladesh, Tanzania, Angola, to name a few, bearing testimony to product leadership in its category.
Staff Status in DLW (As on 1st Oct'2009)  Total Staff in DLW 5974,Production Staff 2362
August 1961: DLW set up as a green field project in technical collaboration with ALCO, USA for manufacture of Diesel Electric Locomotives
January 1964: First Locomotive rolled out and dedicated to the Nation
January 1976: Entered Export market, first locomotive exported to Tanzania
December 1977: First Diesel Generating Set commissioned
October 1995: The Transfer of Technology agreement was signed
March 2002: The first indigenous EMD WDG4 freight loco manufactured
November 2002: 3600 HP Engine produced
March 2003: The first indigenous passenger version of EMD loco WDP4 manufactured
September 2003: Development of 16 cylinder 3300 HP Power upgraded DLW engine, 5000th locomotive produced
November 2006: DLW manufactured first WDG4 locomotive equipped with IGBT based converter
March 2007: First WDP4 locomotive equipped with IGBT based converter
April 2007: DLW has successfully switched over to use of microprocessor based control system on all its locomotives.
March 2009: 257 locomotives manufactured in 2008-09, highest ever locomotive production
November 2009: 5690 locomotives upto 30th Nov'2009(including 348 EMD locos)
CURRENT VACANCY
click above to know
more about DLW Railway
Sponsored Links