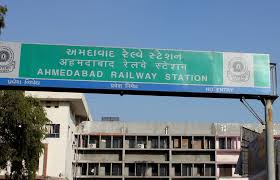 Ahmedabad Junction railway station is the main railway station of Ahmedabad, Gujarat, India. It is also the biggest and busiest railway station within Gujarat. It is second highest income generating division in Western Railways after the Mumbai Division.
Ahmedabad Junction Railway Station is the main terminus which gives access to different parts of Gujarat as well as country. It is major station in the city because trains from different parts of the country stops here. Ahmedabad is also considered an important centre of Western Railway zone of the Indian Railways. It is also referred as Kalupur Railway Station because this station is situated in Kalupur area of the city so local people call it as Kalupur station so that they can differentiate it from other station. Other stations which is connected to the city their names are Gandhigram, Sarkhej, Asarva, Maninagar and Sabarmati Junction.
Ahmedabad Railway station is well connected with all the major cities of India. It is also connected properly with some important Indian stations like Delhi, Mumbai, Bangalore, Kolkata, Hyderabad, Chennai and Indore.
Before the partition of India, the Sind Mail used to travel to Hyderabad, Sindh via the Hyderabad – Mirpur Khas – Khokhrapar – Munabao – Barmer – Luni – Jodhpur – Pali – Marwar – Palanpur – Ahmedabad route. Constructed by Gokuldas Contractor and Associates
The station has 12 platforms. There are an ample numbers of tea stalls, snack bars, medical shops and enquiry desks. The station also has one cybercafe which is run by Tata Indicom. The government is also considering making the station WiFi enabled. The station is undergoing large-scale automation to make it a technologically advanced station, and new ATM outlets from ICICI Bank, Canara Bank, Union Bank of India, Dena Bank, Bank of Baroda, State Bank of India & other major banks has been installed. RailTel plans to open Cyber Cafe in Ahmedabad Station.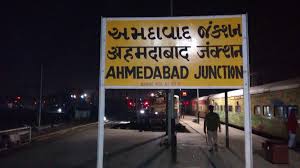 Ahmedabad Railway station has launched hand push luggage trolley service at Ahmedabad railway station. Such trolleys are always available at airports, but for railway station, it is a new initiative. The railway will initially charge Rs 5 per luggage trolley from commuters. As of now, the service is available only for platform no.1, but after new elevators and escalators become functional by the end of this year, the trolley service will be introduced at all platform of Ahmedabad railway station.
According to divisional railway manager of Ahmedabad Shri Ashok Garud, the initiative has been taken following a guideline from the Western railway headquarter. The facility would be launched in Rajkot, Surat and Vadodara railway stations too in future.
Ahmedabad Railway station has also started token-issue system so that they can sale ticket with a proper speed. Token system will save the time of buyer.
Ahmedabad is one of the largest cities in India. It is also an important city in Gujarat. It was established by Sultan Ahmed Shah in 1411. During the British era Ahmedabad was known for its different kind of textile industry.
Ahmedabad played an important role for the freedom of India. Ahmedabad is also known for a Gandhi Ashram which is situated on the banks of Sabarmati River. It is also an important centre for learning about culture and heritage.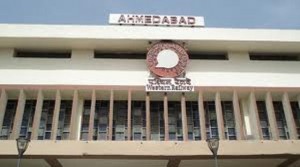 Some trains passes through Ahemdabad junction:
Pune Jaipur Special (09760)
Mao Hapa Special (09533)
Gimb Indore Special (09455)
Delhi Sr Express (19263)
Adi Lucknow Special (09407)
Cct Bvc Express (17204) 14:00
Bkn Cbe Ac S F (22475) 19:35
Sau Janata Express (19018)
Adi Jaipur Special (09425)
Bct Duronto Express (12268)
Adi Duronto Express (12267)
Bdts Bgkt Express (19065)
Rmm Okha Express (16733)
Bdts Aii Special (09642)
Jbp Somnath Express (11466)
Jp Bdts Special (09026) 21:50
Jaipur Special (09025) 06:25
Adi Bct Ac Special (09018)
Bct Adi Ac Special (09017)
Rajkot Express (17018) 14:00
Swarna J Raj Express (12957)
Ned Bkn Special (07037) 06:05
Sbc Garib Nawaj (16531) 14:30
Bsp Hapa Special (09536)
Adi Duronto Express (12298)
Garbha Express (12937) 23:00
Jp Adi Special (09426) 19:35
Ndt Okha Express (19576)