Am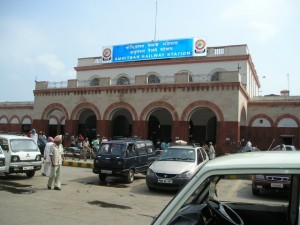 ritsar Junction railway station is a main and important railhead of the Northern Railways in India. There are many express and mail trains come to the Amritsar Junction railway station from different parts of the country. Few Important trains which pass through this station their names are Amritsar – Katihar Express, Howrah Express, New Delhi Express and Shatabdi Express.
Amritsar is well connected with daily trains from Delhi, Mumbai, Kolkata, Chennai, Hyderabad, Thiruvananthapuram, Indore, Bhopal, Gwalior, Agra, Ujjain, Jabalpur, Ahmedabad, Pune and other main Indian cities. There are also three straight trains from Amritsar to Mumbai. While travelling south of this station, the main railhead is at Gurdaspur, which is 71 km from here.
The Sind, Punjab and Delhi Railway completed the Multan-Lahore-Amritsar line in 1865.Amritsar-Attari section was completed on the route to Lahore in 1862.
The 78 km (48 mi) long Amritsar–Khem Karan railway line runs through Tarn Taran and Patti. A 54 km (34 mi) long line links Amritsar to Dera Baba Nanak on the bank of the Ravi.
The 107 km (66 mi) Amritsar–Pathankot route runs through Batala and Gurdaspur.[4] The 1,676 mm (5 ft 6 in) wide broad gauge Amritsar-Pathankot line was opened in 1884
Railway station holds the facilities of waiting room, retiring room. There is a computerized reservation office. Tourist information centre is also available there. One can get vegetarian and non-vegetarian food depending on their choice from the station itself. It also had the availability of tea stall, books and magazines stall, telephone booth, medical and general shops, Wheel Chairs and Stretchers, Internet browsing centres and G.R.P Office
Tourist places like Durgiana temple is 2 km, Golden temple is 3.2 km, Jallianwala Bagh is 3.6 km and Maharaja Palace is 4.4 km and Wagah border is 25 km from the railway station.
Amritsar is a famous and pleasant city. This city is situated in Punjab state in northern part of India. It is the largest city of Punjab. Amritsar's main commercial activities are tourism, carpets and fabrics, handicrafts, farm produce, service trades etc.. It is a business place for Punjab state.
Amritsar is also a historical place. Amritsar's literal meaning is 'pool of nectar'. This place has its own religious importance. Those who follows Sikh religion, Amritsar is a holy place for them.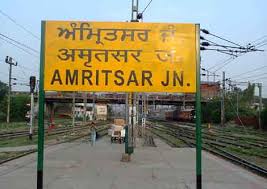 Some Trains passes through Amritsar:
11057 / 11058 Amritsar Lokmanya Tilak Terminus Express
12013 / 12014 New Delhi Shatabdi Express
12029 / 12030 Amritsar New Delhi Swarna Shatabdi Express
12031 / 12032 Amritsar New Delhi Shatabdi Express
12053 / 12054 Amritsar Haridwar Jan Shatabdi Express
12203 / 12204 Amritsar Saharsa Garib Rath Express
12241 / 12242 Amritsar Chandigarh Superfast Express
12317 / 12318 Akal Takht Express
12411 / 12412 Amritsar Chandigarh Intercity Express
12459 / 12460 Amritsar New Delhi Express
12497 / 12498 Shan-e-Punjab Express
12715 / 12716 Sachkhand Express
12903 / 12904 Golden Temple Mail
12925 / 12926 Paschim Express
13005 / 13006 Punjab Mail
13049 / 13050 Amritsar Howrah Express
14631 / 14632 Amritsar Dehradun Express
14673 / 14674 Shaheed Express
15707 / 15708 Amrapali Express
18237 / 18238 Chhattisgarh Express
18507 / 18508 Hirakud Express
19325 / 19326 Amritsar–Indore Express
15933 / 15934 Amritsar-Dibrugarh Express