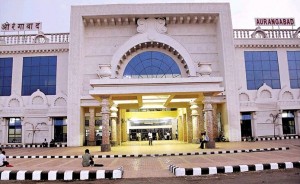 Aurangabad railway station is a railway station located on the Secunderabad-Manmad section. It is under the Nanded Division of South Central Railway zone of the Indian Railways. Aurangabad has rail connectivity with Mumbai, Delhi, Hyderabad, Nizamabad, Nanded, Nagpur, Nasik, Pune etc. The Aurangabad Jan Shatabdi Express is the fastest train connecting it with Mumbai
Aurangabad city has world heritage sites like Ajanta and Ellora caves; apart from this it has major landmarks such as Daulatabad Fort, 13 historic gates, Replica of the Tajmahal – Bibi Ka Maqbara and Pan-Chakki etc. which attracts the tourists. People from all over India and the world come to visit this place. Though the city is developing at fast pace but rich culture and magnificent arts of the city can be seen there.
Aurangabad Railway Station is an average station in Maharashtra state of India. South Central Railway looks after the administrative control of this station. One side this station is connected to Mumbai and from other side it is connected with Hyderabad. Many important trains halt at the station which connects it to other important cities of India such as Pune, Mumbai, Bhopal, Hyderabad and New Delhi etc.
Aurangabad station has all the basic facilities such as waiting room, information booth, rest rooms and book stall available at the station. A canteen is also set up at the station which provides vegetarian and non-vegetarian food to the passengers. Travellers can book their ticket from computerized Ticket booking office available there. Wheel chairs can also be arranged from the Station Master's office because that has been kept there to help sick passengers. Trolleys facilities are not available there but one can hire Licensed Porters available in red uniforms at the station if they need help to carry their luggage.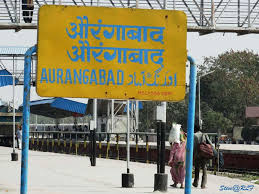 Fast trains can also be caught at the station for going to nearby cities of Aurangabad or other cities of India.
Aurangabad railway station is not established in the main route. Manmad Junction Railway Station is the nearest station from Aurangabad. It is situated at the distance of 120 km from Aurangabad. It only takes 2 to 2 ½ hours to reach to Aurangabad station from Manmad via taxi or travelling through good trains. From Manmad Junction one can get train for going to different parts of the country.
Aurangabad has its own Chikalthana Airport which is situated at the distance of 10 km far from the city centre. It is international airport. It has all the modern facilities available at the airport. Chikalthana Airport has connecting flights for going to different major cities of India such as Jodhpur, Udaipur, Jaipur, Mumbai and Delhi. Seasonal flight from Udaipur to Aurangabad is also operated by Kingfisher Class. Indian Air Force refuels their War planes at the Chikalthana airport.