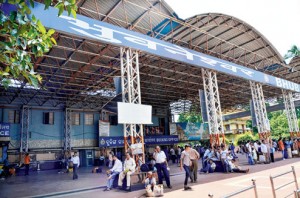 Bhubaneswar Railway station is located in the capital city of Odisha state of India. It is amongst one of the main rail heads of the state. Bhubaneswar is one of the 3rd temple cities of Odisha state. It is a religious centre for the followers of Hindu and Buddhist religions.
The city is also referred as the 'temple city' and tourist will get the chance to see several wonderful examples of Oriya architecture in the older part of the city. Some popular temples have been built in between the period of 11th to 13th century.
Electrification:
Bhubaneswar Yard and Khurda Road-Bhubaneswar section was electrified in 2001-02. Bhubaneswar-Barang section was electrified in 2002-03
Busy Station:
Bhubaneswar railway station is amongst the top hundred booking stations of Indian Railway.[5] The total number of halting trains in Bhubaneswar railway station is 173 and the total number of originating trains is 34
Bhubaneswar railway station(BBS):East Coast Railway:6(Platforms)
Mancheswar railway station(MCS):East Coast Railway:4(Platforms)
Lingaraj Temple Road railway station:(LGTR):East Coast Railway:2(Platforms)
Vani Vihar railway station:(BNBH)East Coast Railway:2(Platforms)
Patia railway station(PTBA)East Coast Railway:2(Platforms)
Under Construction:
Currently Bhubaneswar railway station has 6 platforms. Two more platforms are being planned for construction, which was approved earlier jointly by the East Coast Railways (ECoR) and the Government of Odisha. The Bhubaneswar Railway Station will have a seven storey building with four upper class waiting halls to accommodate six hundred passengers, the two executive lounges will have a capacity to lodge hundred people, five second-class waiting halls, which will have a combined capacity of 1,000. In addition to all these, all the floors in the building will have retiring rooms and dormitories (both air-conditioned and general) with world class modern amenities. All the floors of the proposed station building will have multi-cuisine restaurants, bookshops, medicine counters, booking counters, tourism counters and kiosks of many different categories. The multi-storey parking facility will have a 4,000sqm basement to accommodate 3,200 scooters as well as cycles, while 900 cars can be parked from the second to seventh floor. The Government of Odisha have decided to make the Bhubaneswar Railway Station a world class railway station. If the space between Reservation counter in the station and Platform no.1 can be utilised properly then Bhubaneswar station can have 2 additional platforms and total no platforms can be 8. To decongest the existing station more number of platform is required and very soon the work is going to start.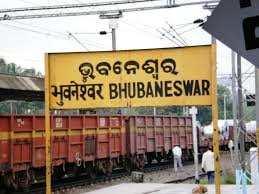 Some Important Trains to Passing Through Bhubaneswar:
22823/24: Bhubaneswar Rajdhani Express-BBSR TO New Delhi
12381/82:Bhubaneswar Garib Rath-Bhubaneswar To Dhanbad
12801/02:Purushottam Express-Puri To New Delhi
11019/20:Konark Express-Bhubaneswar To Mumbai
12841/42:Coromandel Express-Howrah To Chennai
12839/40:Howrah Chennai Mail-Howrah To Chennai
18463/64:Prashanti Express-Bhubaneswar To Bengaluru
12703/04:Falaknuma Express-Howrah To Hyderabad
12277/78:Puri Howrah Shatabdi Express Puri To Howrah
12843/44:Puri Ahmedabad Express-Puri To Ahmedabad
12509/10:Kaziranga Express-Guwahati To Bengaluru
18477/78:Kalinga Utkal Express-Puri To Haridwar
18507/08:Hirakud Express-Amritsar To Visakhapatnam
18451/52:Tapaswini Express-Puri To Ranchi
18473/74:Puri Jodhpur Express-Puri To Jodhpur
12073/74:Bhubaneswar Howrah Jan Shatabdi Express -Bhubaneswar To Howrah
22865/66:Puri Lokmanya Tilak Terminus Express-Puri To Mumbai
18447/48:Hirakhand express-Bhubaneswar To Jabdalpur
17015/16:Visakha Express-Bhubaneswar To Hyderabad
18047/48:Amaravati Express-Howrah To Vasco da Gama
18645/46:East Coast Express (India)-Howrah To Hyderabad
12875/76:Neelachal Express-Puri To New Delhi
12507/08:Guwahati Trivandrum Express-Guwahati To Trivandrum
12281/82:Bhubaneswar Duronto Express-Bhubaneswar To New Delhi
12821/22:Dhauli Express-Puri To Howrah
18495/96:Bhubaneswar Weekly Express-Bhubaneswar To Rameswaram Bhubaneswar
Nearest Hotels in Bhubaneswar Railway Station:
1.Hotel Deepali International
2.Hotel Eden Roc
3.Hotel Excellency
4.Hotel Grand Central
5.Hotel Kalinga Ashok
6.Hotel Miland Palace
7.Hotel Pushpak
8.Hotel Pushpak Executive
9.Hotel Royal Inn
10.Hotel Upasana
11.Patra Guest House
12.Swosti Grand
13.VITS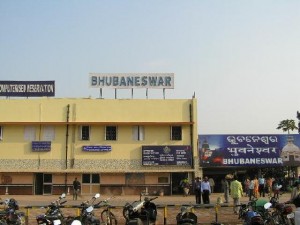 Bhubaneshwar railway station handles around 100 trains on daily basis which makes it a very busy railway station. It is built in the city centre and people can reach at the station easily. Around 150, 000 passengers visit the station everyday. Good services are provided to the passengers. The Bhubaneswar railway station is categorized as one of the top hundred booking stations of Indian Railway.
The divisional headquarters of East Coast railways is Bhubaneswar. Administrative control of the station is under South Eastern Railways. It is well linked to the main cities of India through direct trains. It is located on the main track line from Kolkata to Chennai. Passengers can get trains arrival and departure timings and other details from the Indian Railway website: www.indianrail.gov.in/
Some important Express and mail trains such as Rajdhani Express, Nandankanan Express, Konark Express and Lokmanya Tilak Express, Coromandel Express, Chennai Howrah mail, Dhauli Express, Janasatabdi Express, Falaknuma Express, East Coast Express, Konark Express, Prashanti Express, Yeshwantpur Howrah Express and Yeshwantpur Guwahati Express etc. pass through the station and connect it to the major cities of India such as Delhi, Bombay, Hyderabad, Bangalore, Howrah and Chennai etc.
Bhubaneswar railway station has the facilities of waiting room, cloak room, retiring room, water cooler, book stall and telephone booth which provide good comfort to the travellers at the station. Computerized reservation office is built at the station for booking tickets. One can get vegetarian and non vegetarian foods from the refreshment room available there.
Station Code of Bhubaneswar Railway Junction is BBS and for reservation enquiry one can dial 0674 – 2534434 to 37. To find out Arrival and Departure status one should dial 136, 0674 – 2532233, 2534434 to 37
Bus stand is at the distance of 8 km from Railway station and Airport is 7.2 km far from the station.