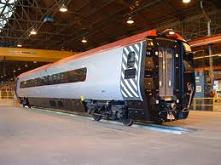 This workshop, earlier known as Carriage & Wagon Workshop (now it is Northern Railway Carriage and wagon Workshop) was established by the princely state of Oudh & Rohilkhand Railway (O&RR) at Alambagh, Lucknow in 1865 to carry out the periodical overhauling (POH) of rolling stock both Goods & Coaching stock.
After about sixty years, that is in the year 1925 the O&RR was taken over by the Eastern Indian Railway (EIR) along with all assets and liabilities. Thus the Carriage & Wagon workshop Alambagh and Loco motive workshop charbagh became the part and parcel of EIR. Subsequently in 1952 the EIR merged with Northern Railway and Alambagh workshop became one of the premier Carriage & Wagon Workshop to cater the need of broad gauge rolling stock in the Northern part of the Country.
In order to attain the optimal degree of productivity a lot of changes of product mix have been witnessed in this workshop over the last 140 years. In a phased manner the POH of Goods stock was reduced and ultimately the POH activity of Goods stock was totally stopped from Feb-1995.
Presently the activity of this workshop is purely POH of Coaching stock.
After phasing out of wagon POH activity since Feb'95, this workshop has emerged as a major workshop for POH of coaching stock. With the highly motivated workforce, this workshop has been able to accept POH of modern high-speed coaches provided with roller bearings, Air Brake and AC system though the basic infrastructure of the shops had been developed for POH of conventional IRS rolling stock.

Achievements/ Innovation
The under noted modifications and innovations carried out in this shop with available sources.

Implementation of Re-structuring
Alambagh workshop was the first establishment in northern railway to implement cadre re-structuring for both staff and supervisors.

First NG coach Constructed
Alambagh Workshop was entrusted with the task of construction of the superstructure of two narrow gauge coaches for a Kalka based tourist train rake. The RSP section of this shop had started off the task with zest, coordinating with Kalka workshop for material and know-how. Second coach construction is in progress.
All BEML type coaches were fitted with conventional commode chute to Drg. No.4505 It was assumed that venturi type chute could not be fitted to these coaches due to design of the under frame and structures of these coaches. A team of workers under guidance of SSE (Corrosion) after certain modification has successfully fitted the venturi type chute.

Venturi Type Chute in BEML Coaches
A concept of modular kitchen has been started in saloons which has been implemented by workshop staff in RA-3 and RA-11 and are being done in other saloons as and when they are recieved for POH.
Modular Kitchen in Saloons
There is considerable improvement in the IOR points. The following points have been achieved 100%.
Luggage securing wire ropes in all AC and Non-AC coaches provided
Lift cock in all AC coaches provided
To provide window glass balancing springs
To provide aluminum chequered sheets in doorways and gangways
To weld PVC joints
Anti climbing features have been incorporated in 773 coaches during the year 2003 –04 upto September04.

MORE ABOUT US
click above to know
about nrcww – indian railway
Sponsored Links