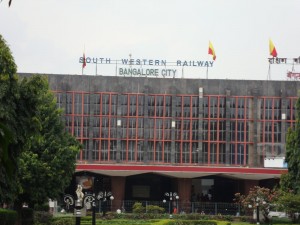 Bangalore City Railway station (Krantivira Sangolli Rayanna Railway station) is the main railway station serving the city of Bangalore, Karnataka, India. It is located across the Kempegowda Bus Station in Bengaluru, Karnataka, India. It is an important hub of the South Western Railway and the Indian Railways. The station has 10 platforms and two entrances. It is one of the busiest stations in India
Through broad gauge rail service it connects to all main cities of India such as New Delhi, Calcutta, Chennai, Hyderabad and Mumbai. One can get train for Bangalore City Railway Station from any parts of the country. It is the main station in the Bangalore city. Many Important trains halt at the Bangalore City Railway Station and name of the few trains are Bangalore Mail, Brindavan Express, Bangalore Express, Kongu Express, Karnataka Express, Mysore Express, and Rajdhani Express etc. Bangalore City Railway Station is well connected to Delhi, capital of India.
Bangalore is one of the important junctions of India. Platforms 1 to 7 connect to the Chennai and Salem railway lines. On platforms 8 to 10, service trains arrive via Yeshwantpur from Hubli. Platforms 1 to 4 terminate at Bengaluru. On platforms 5 to 10, service trains depart towards Mysore. There are railway lines between Platforms 4 and 5 that are used as the railway yard. There are 5 railway lines passing from Bangalore City Railway station. To Hyderabad via Guntakal, Chennai via Krishnarajapuram, Salem via Hosur, Mysore, Hubli via Tumkur, Birur. The Bengaluru-Chennai railway line via Bengaluru Cantonment, Bangarpet, is fully electrified and thrown open for traffic.
The station handles 88 trains a day, including 63 express trains, and is used by 220,000 commuters every day
Bangalore City Railway Station holds the facilities of STD Booth, Post and Telegraph Office, Waiting Room, Refreshment Room, Tea Stalls and Book Stalls. For booking ticket they have computerised reservation office. They also have tourist information centre at the station itself. Retiring room (AC/Non-AC) facilities also exists there. The station had 10 numbers of platforms. Two entrances have been made at the station. For travelling to Bangalore one can book tickets online and can get all related information from Indian Railways website.
Important places which one should know before visiting the Bangalore City are not very far from the railway Station. Major hotels such as Hotel Grand Taj and Taj West are situated at the distance of 3 km & 2 km from the station and they provide excellent quality of accommodation facilities. MG Road is 6 km and Vidhan Soudha is 3 km far from the station. Jayanagar is located at the distance of 7 km and it takes 4 km to reach Malleswaram Market. Bangalore International Airport is around 45 km far from the station. The main railhead to the south-west of the Bangalore City Railway Station is Mysore Junction Railway Station. One can get Tourist Taxis for travelling in and around the city.
Some trains passes and originate trough Bangalore city Railway Station
01035 Mys Ru Exp
08004 Mys Howrah Exp
16507 Bhagat Ki Kothi Bangalore city Express
16505 Gandhidham bg Bangalore City Express
16209 Ajmer mysore Express
06236 Mysore Express
06202 Snsi Mys Spl
16222 Mysore Express
16538 Bangalore Exp
56263 Mysore bangalore Passenger
22607 Ernakulam Bangalore Super Fast Express
12683 Bangalore Sf Ex 04:20 Ends
16228 Talguppa Bangalore Express
16531 Ajmer bangalore City Garib Nawaj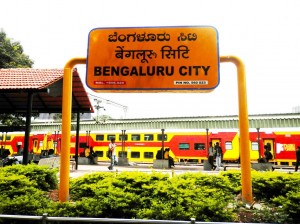 16533 Bhagat Ki Kothi Bangalore City Express
12657 Bangalore Mail 05:10 Ends
56910 Hospet bangalore City Fast Passenger
56912 Hubli bangalore City Fast Passenger
22682 Chennai Central Mysore Express
12691 Sspn Express
16593 H Sahib Nanded Bangalore City Express
12028 Shatabdi Exp Starts
16591 Hubli hampi Express
12677 Ernakulam Exp Starts
12785 Bangalore Exp
12608 Lalbagh Exp
22694 H Nizamuddin Banglore Rajdhani
12430 Ndls Lko Raj
16731 Mysore Exp
12494 Banglore Rajdhn
56214 Tirupati Chamarajanagar Passenger
02779 Vsg Sbc Link Ex