Eastern Railway was formed on 14th April, 1952 by integration of the East Indian Railway consisting of Sealdah, Howrah, Asansol and Danapur Divisions and the entire Bengal Nagpur Railway. Later on, the portion of BNR stretching from Howrah to Visakhapatnam in the South, Howrah to Nagpur in the Central area and upto Katni in the North Central Region were separated from Eastern Railway and formed as South Eastern Railway with effect from 1st August 1955. After redistribution and construction of new lines over a period of time, Eastern Railway as on 30th September 2002, was stretched over 4245.61 kilometers. Subsequently i.e. on 01-10-2002, three divisions viz. Dhanbad, Mughalsarai and Danapur have been separated from Eastern Railway to create new East Central Railway zone with headquarters at Hajipur. Thus, Eastern Railway now consists of 2414 Route Kilometers spread over four divisions viz. Sealdah, Howrah, Asansol and Malda.
The area served by Eastern Railway is important to the economy of the country, as apart from serving the most densely populated region in the country, this Railway serves the area rich in minerals, agriculture and industry.
This Railway has three major Workshops situated at Jamalpur for wagon repairs, periodic overhaul (POH) of diesel locomotives, manufacturing of cranes and tower-wagons; Liluah for POH of coaching & freight vehicles and Kanchrapara – for POH of electric locomotives, EMU Locals and coaches.
This Railway has 1346 route kilometers electrified on 25 KV AC traction out of a total of 2414 route kilometres.
Eastern Railway extends to Bangladesh border in the East upto Lalgola, Benapole and Gede. Malda and Kiul to the North, Namkhana near Ganga Sagar to the South and Asansol and Jhajha in the West.
Starting from Howrah, the trunk route of Eastern Railway runs 221 kms. to Sitarampur from where it takes two directions towards Delhi, one via Patna and other via Dhanbad, Gaya. Both these routes meet again at Mughalsarai Station of East Central Railway.
Services
To serve the long distance passenger traffic, the Railway operates fast long distance Mail/Express trains, the pride of place being occupied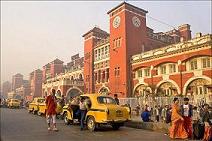 by Rajdhani Express, which was introduced for the first time on Indian Railways between Howrah and Delhi over Eastern and Northern Railways in 1969.
On the suburban front, Howrah and Sealdah divisions of Eastern Railway are catering to the needs of large portion of Greater Kolkata suburban passengers. Most of the suburban routes are electrified and multiple EMU's are running.
Eastern Railway has also been the pioneer in introducing Diesel Multiple Units service for the first time in the country. To meet the requirements of suburban passengers, this service was introduced in those sections which are not electrified.
On other electrified routes, Mainline Electrical Multiple Units (MEMU) have been introduced for passenger services in non-suburban areas. This service is widely appreciated by the commuters.
Transport Business
Eastern Railway loads about 50 Million Tonnes freight in addition to carrying heavy long distant passenger and heavy local traffic.
At present, out of the total originating traffic of Eastern Railway, coal constitutes about 65-70%. The major Power Houses & Industries of Eastern and North India depend on the coal loaded on Eastern Railway.
Apart from coal, this Railway also transports Iron and Steel products from Durgapur and Burnpur, Stone from Pakur and Jamalpur, Cement from Durgapur and host of other merchandise including Jute, Tea, Textile, Automobiles, agricultural produce etc. at various stations.
The POL installation at Rajbandh and Budge-Budge, Cement plants at Durgapur and the industrial complexes at Asansol, Durgapur, Chittaranjan, Burnpur and industrial suburbs of Kolkata and Howrah are served by this Railway.
Rail Museum
Eastern Railway has the honour of having a railway museum at Howrah spread over an area of 4 acres. It was inaugurated on April 07, 2006. Presently about 25,000 visitors in every month enjoy the rich heritage of railway in this part of the country. It has become a must visit for the tourists and railway enthusiasts.
MORE ABOUT US
click above to know
more about eastern railway
Sponsored Links