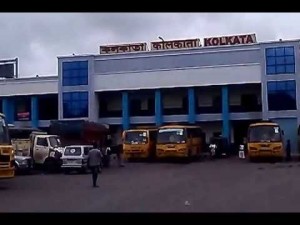 Kolkata Railway Station formerly known as Chitpur Station, is the newest of the four intracity railway stations serving Howrah and Kolkata, India; the others are Sealdah Station, in Kolkata, Shalimar Station in Howrah and Howrah Station in Howrah. Kolkata station is situated in the Chitpur locality of north central Kolkata.
Kolkata is a famous city in the state of West Bengal, India and it is well connected with other major cities on India through trains, roads and by air. It is the capital of West Bengal. Kolkata is also called as 'city of joy'. People from all over the world come to visit this wonderful city which is a unique blend of modernity and ancient
In 2000, the first plans were made to utilise this area as a railway station, since the rapid growth of long distance passengers was overcrowding the Sealdah station. Due to limitations of space, new platform construction is restricted at Sealdah. Two new platforms (9A & 9B) constructed between 2004 and 2005 proved insufficient. Due to its central position in Kolkata, the Sealdah station is too busy for suburban train traffic. To overcome this problem, Eastern Railways suggested constructing another large railway station in Kolkata, to cater mostly to long distance trains.The decision to build a terminal at Chitpur came after a lot of deliberation and a process of elimination. Different locations were suggested for the station site. Three years ago, Majerhat was suggested as a possible location. The idea was shelved owing to technical difficulties involving the construction of a bridge over the Hooghly river from Bauria to Budge Budge. Then there was Shalimar, in Howrah district, which was already a goods terminal operating under the South Eastern Railway. In fact, a passenger service on a trial basis was also started from there through two pairs of trains. But the project could not take off owing to certain problems relating to infrastructure and the considerable distance of the terminal from Kolkata proper.Chitpur was decided upon finally and approved by the Railway Ministry in 2003-04. Certain inherent advantages helped in the selection of this place. Other than being located in the heart of Kolkata, Chitpur has already functioned as an important rail yard for around a century. Moreover, unlike in the case of Majerhat and Shalimar, the huge property in and around the place belongs to the Railways. The proposal has been accepted by the Kolkata Metropolitan Development Authority (KMDA), and on May 15, 2003, West Bengal Chief Minister Buddhadeb Bhattacharjee laid the foundation stone for the project.
The place where the station is situated was formerly a large goods yard. The present car and bus parking areas, as well as the path to the station, formed part of a coal loading yard. The present-day platforms were once used as goods lines and formed part of the large Chitpur Rail Yard.
The station is linked to the Sealdah-Ranaghat Line and is served by the Eastern Railway for trains to Naihati, Bandel, Kalyani Simanta, Gede, Shantipur, Krishnanagar, Dankuni, Kolkata Airport, Bongaon, Hasnabad and others. The number of suburban trains is lower than long-distance trains. This station runs many long distance express trains including two pairs of Garibrath Express, and one long distance passenger train – Lalgola Passenger. There are five platforms, among them Platform 1 & 2 is used by only suburban trains, and Platform 3,4 & 5 are used by long-distance trains. The station is operated by the Eastern Railway. The only international train of eastern India is Kolkata – Dhaka Maitree Express, which runs towards Bangladesh, is also departed from here.
For helping passengers, station has the facilities of waiting and retiring rooms. One can easily reach to bus stand and taxi stand from Kolkata railway station.
If someone needs to use tram from Kolkata station, the nearest place for getting tram is Belgachhia. Belgachhia is also a metro station and good for travelling any parts of this large city
Being a new railway station, only few public transports serve this station. If one wish to travel by bus from Kolkata railway station, they would not get many options available for them because there are only two or three bus routes available directly from this station. Mostly buses and trams run via Radha Gobinda Kar Road which is situated at the distance of 1 km from Kolkata Railway station and the metro station is also 2 km far from the railway station.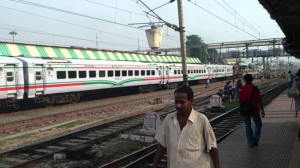 Some Important Trains Originate In Kolkata
13113

-Hazarduari Express-Kolkata to Lalgola

13109

-Maitree Express- Kolkata to Gede

13108

-Maitree Express-Kolkata to Dhaka Cantonment

11105-

Pratham Swatantrata Sangram Express- Kolkata to Jhansi Junction

12325

-Kolkata – Nangal Dam Express-Kolkata to Nangal Dam

12363-

Kolkata – Haldibari Super Fast Express- Kolkata to Haldibari

15233-

Kolkata – Darbhanga Express- Kolkata to Darbhanga Junction

19607-

Kolkata – Ajmer Weekly Express- Kolkata to Ajmer Junction

13137

-Barrackpore – Azamgarh Express- Kolkata to Azamgarh

13151

-Jammu Tawi Express- Kolkata to Jammu Tawi

12357

-Kolkata – Amritsar Super Fast-Kolkata to Amritsar Junction

13161

-Kolkata – Balurghat Express- Kolkata to Balurghat

19414

-Kolkata – Ahmedabad Express-Kolkata to Ahmedabad Junction

19605

-Kolkata – Ajmer Express- Kolkata to Ahmedabad Junction

12319

-Kolkata – Agra Express- Kolkata to Agra Cantonment

53179

-Kolkata – Lalgola Passenger-Kolkata to Lalgola

15051

-Kolkata – Gorakhpur Express- Kolkata to Gorakhpur Junction

15049

-Kolkata – Gorakhpur Express-Kolkata to Gorakhpur Junction

15047-

Purbanchal Express- Kolkata to Gorakhpur Junction

13117

-Kolkata – Berhampore CRT Express- Kolkata to Lalgola