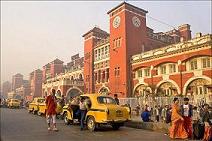 The RRB Kolkata is responsible for recruiting employees at the Railways in and around Kolkata. For vacancies in Railways, refer to weekly newspaper employment news, where vacancies in different zones are advertised through respective Employment Notifications.
The following content will take you to RRB Kolkata where you can find information about application status, results and recruitment at RRB Kolkata.
Recruitment Jurisdiction :
Eastern Railway – HQ Office of Eastern Railway,Howrah, Asansol & Sealdah Division.
South Eastern Railway – HQ Office of South Eastern Railway & Kharagpur Division.
Chittaranjan Locomotive Works.
Metro Railway/Kolkata.
Categories Of Recruitment :
Group-'C' & Group-'D'
Address :
Railway Recruitment Board Kolkata
Metro Railway A.V.Complex,
Chitpur, Opp. To R. G. Kar Medical College & Hospital,
R. G. Kar Road,
Kolkata-700 037
Organisation :
Chairman – Senior Administrative Grade
Assistant Secretary – Junior Scale (Group – B)
Group-C Staff – 27 Group-D Staff – 11