The South Central Railway is headquartered at Secunderabad and has the following divisions:
Secunderabad
Hyderabad
Guntakal (including Bellary-Guntakal (MG))
Vijayawada
Guntur
Nanded
It covers the geographical area consisting of Telangana, Rayalaseema and Coastal regions in of Andhra Pradesh and also parts of Karnataka, Madhya Pradesh and Maharashtra.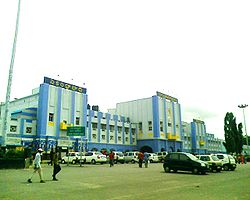 South Central Railway was formed on 2nd October, 1966 as the 9th zone of the Indian Railways. In its forty plus years of committed service and path breaking progress, South Central Railway has grown to a modern system of mass transportation fulfilling the aspirations of the passengers/customers and carved a niche for itself in Indian Railways system.
Strategically positioned in the southern peninsula, this dynamic organization with its headquarters at Secunderabad serves the economically vibrant state of Andhra Pradesh, Parts of Maharashtra, Madhya Pradesh and Tamil Nadu.
From the days of steam hauled locomotives and wooden plank seats, South Central Railway has come a long way modernizing its system with the state of the art high powered Diesel and Electric Locomotives, high speed telescopic Passenger Coaches, and higher axle load wagons, higher capacity track in all important routes, multiple aspect color light signaling with solid state inter locking, and micro wave & digital communication system etc.
Over the years, South Central Railway has attained sufficient transportation output with adequate infrastructure development and technological upgrading to serve the regions in its jurisdiction. Safe operation of trains, expansion of net work, modern Passenger amenities, Punctuality of trains, courteous service and cleanliness in stations and trains remain always the thrust areas of this Railway. Being a service oriented organization, South Central Railway provided Computerized Passenger Reservation System at 85 Stations/locations covering 96% of the berths available. In the a rena of information dissemination to the rail customers, it has provided Inter-active Voice Response System (IVRS) for Reservation and train enquiry, National Train Enquiry System (NTES) for real time information on movement of trains, Passenger Operated Enquiry Terminals (POET) with information on availability of accommodation and confirmation and Close Circuit Television (CCTV) for real time reservation availability status at all important stations in its system.
For mass movement of freight, S.C.Railway has introduced high horse powered Diesel and Electric Locomotives and high speed, higher Axle load Box-N-Wagons. Today, South Central Railway plays a pivotal role as a catalyst for agricultural and industrial development in the Southern peninsula apart from fostering the growth of trade and commerce including import/export through ports by connecting sea ports with their hinder land and inland container depots.
Its reliable and comfortable Passenger Services for long and short distance travel by way introducing many super fast and inter city trains helps transform the society by catering to their personal, business, educational and tourism purposes.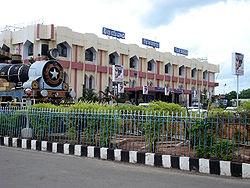 South Central Railway was formed on 2nd October, 1966 by grouping Vijayawada and Hubli Divisions of Southern Railway and Secuderabad and Solapur Division of Central Railway.
Jurisdictional adjustments were made in October, 1977 by merging Guntakal Division of the Southern Railway with South Central Railway and transferring Solapur Division back to Central Railway.
Secunderabad Division was bifurcated in February, 1978 into two Divisions Secunderabad and Hyderabad to facilitate effective operational and administrative control.
On 1st April, 2003, the newly formed Guntur and Nanded Divisions of South Central Railway became operational and Hubli Division was transferred to the newly formed South Western Railway.Presently, South Central Railway has six Divisions Viz., Secunderabad, Hyderabad, Vijayawada, Guntur, Guntakal and Nanded with 5752 Route KMs of which 1604 RKms are electrified.
After its inception, SC.Railway laid 342.805 RKMs of new lines, converted 2676.19 RKMs from MG to BG and carried out doubling of track on 1272.453 RKms, constructed many major river bridges including the engineering marvels Viz., II Godavari Bridge and III Godavari Bridges at Rajahmundry.
MORE ABOUT US
click above to know
more about south central
Sponsored Links