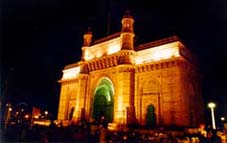 Western Railway in its present form came into existence on 5th November, 1951 by the merger of its forerunner, the erstwhile Bombay, Baroda and Central India Railway (BB&CI), with other State Railways viz, Saurashtra, Rajputana and Jaipur. The BB&CI Railway was itself inaugurated in 1855, starting with the construction of a 29 mile broad gauge track from Ankleshwar to Utran in Gujarat state on the West Coast. In 1864, the railway was extended up to Mumbai.
Subsequently, the project was further extended beyond Baroda in a north easterly direction towards Godhra, Ratlam, Nagda and thereafter northwards towards Mathura to eventually link with the Great India Peninsula Railway, now Central Railway, which had already started operating in Mumbai in 1853. In 1883, a Metre Guage Railway system, initially linking Delhi with Agra, Jaipur and Ajmer, was established.
The Government of India took over the management of the BB&CI railway from 1.1.1942. In 1949, the Gaikwad Baroda State Railway was merged with the BB&CI Railway. After Western Railway came into being certain further jurisdictional changes were effected. The gauge-wise kilometrage of Western Railways as at present, is as under:
Broad Gauge 4263.23 kms.
Metre Gauge 1531.26 kms.
Narrow Gauge 684.35 kms.
TOTAL 6478.84 kms.
Western Railway serves entire Gujarat, part of Rajasthan and some portion of Madhya Pradesh. Western Railway now comprises of six divisions viz. Mumbai, Vadodara, Ahmedabad, Ratlam, Rajkot and Bhavnagar. Two erstwhile divisions viz. Jaipur and Ajmer were merged into North West Railway on 1st October 2002 and Kota division was made a part of West Central Railway on 1st April 2003. A new division i.e. Ahmedabad was created on 1st April 2003. The Western coast of India served by Western Railway has a number of ports, important among them being Kandla, Mundra, Pipavav, Navlakhi, Bedi, Rozi, Okha and Bhavnagar.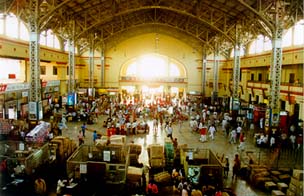 Mumbai Suburban Railway Network
The suburban section of Western Railway in Mumbai extends from Churchgate, the city's business centre to Virar covering a distance of 60 Kms and 28 stations. The section has been extended to Dahanu Road adding 10 more stations and 60 Kms. The first electric train on this section was introduced in 1928 between Colaba and Andheri.
Historically speaking, the first suburban service in Mumbai with steam traction was introduced wayback in April 1867, with one train each way between Grant Road and Bassien Road. Later it was extended to Churchgate in 1870. By 1900, 44 trains on each way were carrying over one million passengers annually.
Today, of 14 million people traveling per day by the Indian Railways, more than 6 million people travel per day on Mumbai Suburban section alone. Of the 2700 plus services run in Mumbai 1210 services which includes 753 twelve car services and one 15 car service are run by Western Railway with a phenomenal frequency of 3 minutes during peak hours. Western Railway carries more than 3 million passengers per day.
Western Railway was first in the world to start an exclusive Ladies Special Train between Churchgate and Virar.
Western Railway is a pioneer in implementing the state of art 'Train Management System' (TMS) over its suburban section till Virar. TMS gives real time in formation of train movement to commuters. The actual count down of train expected in minutes is displayed at the stations with automatic announcements.

MORE ABOUT US
click above to know
more about western railway
Sponsored Links