About CLW


Chittaranjan Locomotive Works (CLW) is a dream of the nation's visionaries, coming true. The planners of the Nation with their deep insight and foresight set out to build a Loco building Factory in West Bengal and CLW is the culmination of that vision. In the late thirties, a committee consisting of M/s. Humphries and Shrinivasan was appointed to investigate the possibility of establishing a locomotive manufacturing unit and to consider its economic viability. The initial project, at Chandmari, a place near Kanchrapara, in the state of West Bengal, could not mature due to partition, which inevitably necessitated a change of site. The issue of setting up a loco building unit continued to be under active consideration of the Central legislature and   in December, 1947, the Railway Board decided to locate the factory at Chittaranjan, near Mihijam.  On the 9th of January 1948, survey of the proposed area was commenced. The rocky soil was an advantage in erecting foundations for heavy structural work and the undulating terrain solved the problem of drainage for the township while the schemes of the DVC which envisaged hydro-electric and thermal power stations in the vicinity assured adequate power availability for the enterprise.
The locoworks originally called "Loco Building Works" was initially established for production of 120 average sized steam locomotives with the capacity to manufacture 50 spare boilers. Production of steam loco commenced on 26th January, 1950. The first President of India, Dr. Rajendra Prasad dedicated the first steam locomotive to the nation on 1st November, 1950 and on the same day the Loco Building Factory was rechristened and  named after the great Patriot, Deshbandhu Chittaranjan Das and became Chittaranjan Locomotive Works. Apart from meeting the growing and varied needs of Indian Railways, CLW has been right from inception, adopting modern designs and upgrading technology, gradually enhancing the haulage capacities and speeds of locomotives.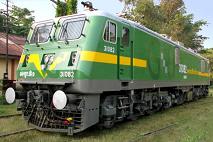 CLW manufactures electric locomotives – 25 kv ac loco with three phase ac drive, 25kv ac locomotive with dc drive. it is one of the largest Electric Locomotive manufacturer in the world. CLW also manufactures AC & DC Traction motors, Switch gears/Control gears, Bogies cast & fabricated, Wheel sets & Steel casting. Chittaranjan Locomotive Works (CLW) has been named after the great freedom fighter, leader and statesmen Deshbandhu Chittaranjan Das .
The production activity started on 26th January, 1950 the day when India became Republic. The initial product of Chittaranjan Locomotive Works was Steam Locomotive . In the period 1950-1972 Chittaranjan Locomotive Works turned out a total number of 2351 Steam Locomotives.
CLW has continued its excellent performance and has been successful in producing  a record best number of 220 locos in 2009-10. CLW celebrated its Diamond Jubilee year  in 2009-10 .  The year saw a number of celebrations. A kite flying Competition was held on March, 2009, to commemorate CLW's stepping into its Diamond Jubilee year. The programme brought together the residents of the township , in celebrating the  Diamond Jubilee year.
Sponsored Links