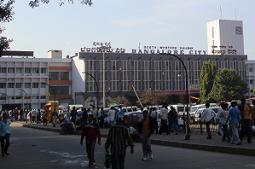 Railway Recruitment Board, Bangalore was established in the year 1980 and was assigned the task of recruitment of Group "C" staff under various categories for all the Railway establishments falling under its jurisdiction.
It is working under the Ministry of Railways, Government of India headed by Railway Recruitment Control Board / New Delhi.
Location: Railway recruitment Board, Bangalore is situated near Bangalore Cantonment Railway Station, within a radial distance of about 6 Kms from the Bangalore city Railway Station.

An Appeal to Aspiring Candidates
The Railway Recruitment Board, Bangalore conducts examinations every year for Group 'C' posts for certain Divisions of Indian Railways and recruit persons of merit in a fair and transparent manner.
Our examinations are of multiple-choice objective types & OMR answer sheets are being used and computerized scanning is being resorted to for evaluation. Some of the examinations may be conducted on-line (computerized) and results will be declared immediately after completion of the examination. The selections are based only on merit.
RRB do not run any coaching centers nor any center is authorized by RRB. Beware of unscrupulous persons and coaching centers which are collecting money from the aspiring candidates with a promise of supplying question paper or providing job under VIP quota, etc. Nothing of this sort is possible.
This appeal is issued in the interest of the candidates to avoid getting way lead by mischievous elements and RRB/Bangalore will not be held responsible for any such misadventure on the part of the candidates.
Chairman
Railway Recruitment Board
18, Millers Road, Bangalore-560046.
Selection Procedure
RRBs recruit Group "C personnel for different Zonal Railways/Production Units.
In all, there are 19 (nineteen) RRBs, which cater to the respective zonal staffing requirements. Based on the Indents received, Employment Notifications are released in Employment News (A publication of the Government of India) and Indicative advertisements in other News Papers.
Generally Notifications are issued by RRBs once or twice in a year based on Railway's need.
System
In order to ensure uniformity through out the RRBs, there is a standard format for application.
The process involved in the selection of RRB is :
Receipt and scrutiny of applications for different eligibility criteria.
Listing of eligible candidates.
Fixing examination date and center.
Issue of call letters to eligible candidates 30 days in advance of the date of examination.
Publishing through website the list of rejected applications with reasons for such rejection.
Holding of second stage written exam/skill test/aptitude test/interview as per the norms.
Verification of documents for the candidates qualified in all the stages of exam.
The applications received are scrutinized for different eligibility criteria and a list of eligible candidates is drawn. Thereafter, examination date and center is fixed and call letters are dispatched to eligible candidates one month in advance of the date of examination. Simultaneously the rejected applications data is published in the website for information of in-eligible candidates.
The examinations may be single stage, two stages, single stage written exam followed by skill test/aptitude test/interview depending on the nature of the posts advertised.
Candidates qualified in all stages of the examination are finally called for document verification, wherein, all the records are verified and checked with original documents.
Documents Required:
The following documents are to be produced in original:
All academic certificates and date of birth proof.
Caste certificate in case of SC/ST/OBC Candidates.
Latest caste certificate and the certificate enclosed along with the application in respect of OBC candidates.
NOC in case of departmental candidates
Discharge certificate in case of EXS
Recommending names of the successful candidates to the Chief Personnel Officer of the indenting Railways for medical examination, final record verification and issue of offer of appointment.
For All RRBs we have following information promptly available –
Recruitment procedures
Examination schedules
Standard application form
Standard format for caste certificate
New Notification
On line registration and application
On line examination demo
Results
Status of Notification
List of in eligible applicants
The selection process is based on merit and is subject to the rules and regulations issued by the Ministry of Railways (Railway Board), Government of India which includes reservation of jobs for certain castes/communities such as Scheduled Castes (SC), Scheduled Tribes (ST), Other Backward Communities (OBC), etc. Ex-servicemen are also entitled for reservation as per the rules. The entire computerized recruitment system functions impersonally without fear or favour. There is no scope for corruption, influence or discretion in this process. Candidates indulging in malpractices and unfair means are dealt with strictly and debarred from appearing for all RRB examinations.
The posts earmarked for PWD (persons with dis-abilities) are not filled through RRB. Responsibility of recruitment of PWD against the earmarked posts / vacancies rests with the respective production unit/zonal railway.
The overall policy guidelines for all Railway Recruitment Boards in India are laid down by Railway Recruitment Control Board, New Delhi.