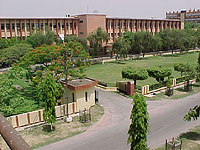 Railways were introduced in India in 1853 and as their development progressed through to the twentieth century, several company managed?systems grew up.To enforce standardization and co-ordination amongst various railway systems,the Indian Railway Conference Association(IRCA) was set up in 1903, followed by the Central Standards Office (CSO) in 1930, for preparation of designs, standards and specifications. However, till independence, most of the designs and manufacture of railway equipments was entrusted to foreign consultants. With Independence and the resultant phenomenal increase in country's industrial and economic activity,which increased the demand of rail transportation – a new organization called Railway Testing and Research Centre (RTRC) was setup in 1952 at Lucknow, for testing and conducting appliedresearch for development of railway rolling stock, permanent way etc.
Central Standards Office (CSO) and the Railway Testing and Research Centre (RTRC) were integrated into a single unit named Research Designs and Standards Organization (RDSO) in 1957, under Ministry of Railways at Lucknow.
The status of RDSO has been changed from an 'Attached Office' to 'Zonal Railway' since 01.01.2003.
ORGANISATION
RDSO is headed by a Director General. The Director General is assisted by Additional Director General, Sr. Executive Directors and Executive Directors, heading different directorates. RDSO has various directorates for smooth functioning:
Bridges & Structures
CAMTECH Carriage
EMU & Power Supply
Electric Loco
Electrical Energy Management
Engine Development
Finance & Accounts
Geo technical Engineering
Library & Publications
Medical Metallurgical & Chemical
Motive Power
Personnel Directorate
Psycho-Technical
Quality Assurance
Research
Signal
Stores Directorate
Telecommunication
Testing Track Design
Track Machines & Monitoring
Traction Installation
Traffic Wagon Design Works
UTHS
All the directorates of RDSO except Defence Research are located at Lucknow.Cells for Railway Production Units and industries, which look after liaison, inspection and development work, are located at Bangalore, Bharatpur, Bhopal, Mumbai, Burnpur, Kolkata, Chittaranjan, Kapurthala, Jhansi, Chennai, Sahibabad, Bhilai and New Delhi.
MORE ABOUT US
click above to know
more about rdso
Sponsored Links