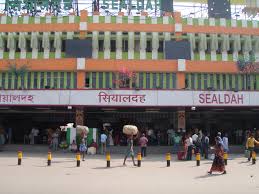 Sealdah railway station is one of the major railway stations serving Kolkata in India, the others being Howrah Station, Shalimar Station, Santragachi Junction and Kolkata Railway Station. Sealdah is one of the busiest railway stations in India and an important suburban rail terminal. After completion, Kolkata Metro Line 2 will pass through Sealdah.
Sealdah Railway station was started in 1869.Before 1978, there was a tram terminus at Sealdah station. Trams departed from here towards Rajabazar, Howrah Station, High Court, Dalhousie Square, Park Circus and Dharmatala. The first horse tram service of Kolkata was also started from Sealdah to Armenian Ghat, following the currently route 13, 14 & 16 between Lebutala & Dalhousie Square. The Sealdah-Lebutala & Dalhousie Square-Armenian Ghat (later extended to High Court) stretch is now closed. That terminus was demolished in 1978 also with the Sealdah-Lebutala tram track stretched through Boubazar Street for construction of the Sealdah flyover. The flyover is not high enough to pass tramway tracks under it. However, after its construction, tram tracks were relaid on the flyover. Now tram services between Rajabazar-Esplanade, Parkcircus-Burrabazar and other services pass through Sealdah. Currently, a car parking exists in place of the old tram terminus.
There are three station terminals at Sealdah: Sealdah North, Sealdah Main and Sealdah South. The North section consists of Sealdah North and Sealdah Main buildings. It has 13 platforms numbering 1 to 4, 4A (Sealdah North), and 5 to 9C, 9A & 9B (Sealdah Main). The South section consists of Sealdah South terminal, with 7 platforms (10A, 10-14,14A). The north and south sections have separate set of emerging tracks. The north and south section is connected by two links, one is Dumdum-Majherhat link (popularly circular rail), and other is Bidhannagar-Parkcircus link (extension of circular rail). These two links were constructed to quickly travel between the two sections avoiding Sealdah.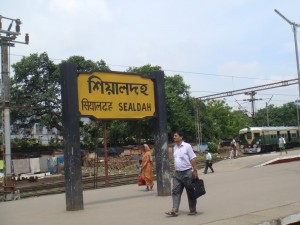 For the financial department,There are DRM's,Sr.DFM's and ADFM's to look over.Sealdah North acts as the suburban train terminal for 2 divisions: the main division and the Bongaon division. The main division of Sealdah north operates trains plying between Kolkata and Bandel, Kalyani Simanta, Gede, Shantipur, Krishnanagar, Dankuni and others. A narrow gauge line earlier used to connect Shantipur and Krishnanagar but now it has been replaced with broad gauge. This line continues to Nabadwip Ghat. These narrow gauge lines are served by DMU trains (all other lines run EMU trains). There is a plan to extend the suburban train service from Krishnanagar to Palashi, which is currently served by electric loco hauled trains. Dankuni line connects Eastern Railway's Howrah line at Bali and Dankuni. Bandel line connects Eastern Railway's Howrah line at Bandel.

Some Trains Originate in Sealdah Station:
53171-Sealdah – Lalgola Passenger
53131-Sealdah – Muzaffarpur Fast Passenger
13187-Sealdah – Rampur Hat Express
12317-Akal Takht Express
53173-Sealdah – Lalgola Passenger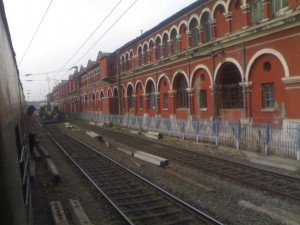 12373-Sealdah – Rampur Hat Inter City
53135-Sealdah Rampurhat Passenger
53175-Sealdah – Lalgola Passenger
13115-Sealdah – Rampur Hat Intercity
12329-West Bengal Sampark Kranti
12379-Sealdah – Amritsar Express
12315-Annanya Express
13105-Sealdah – Ballia Express
13141-Testa Torsa Express
13503-Intercity Express
53177-Sealdah – Lalgola Fast Passenger
12313-Sealdah Rajdhani Express
12383-Sealdah – Asansol Inter City Express
13185-Ganga Sagar Express