North Central Railways, in its present form, came into existence on 1st Of April 2003. North Central Railways present network extends over a large area of North Central India, covering the states of Uttar Pradesh, Madhya Pradesh, Rajasthan, Haryana .
Geographically NCR is the heart of Railway network and extends from (exclusive) in the North to MGS (exclusive) in the east and Bina (exclusive in the South. This network spans over parts of UP., Haryana, Rajasthan & MP. This has a total of 3062 route Kms, predominantly double line electrified section. This route from GZB to MGS is a part of golden quadrilateral. NCR consists of 202 main line stations & 221 branch line stations. This Zone forms a corridor for trains almost directions viz. East to North and North to East a total of 29 pairs of M/Exp. Trains daily West/South to North and North to South/ West total 37 pairs of M/Exp. Trains daily East to SW & SW to East a total of 25 pairs of M/Exp. Trains daily East to West & West to East a total of 12 pairs of M/Exp. Trains Daily
Serving the hea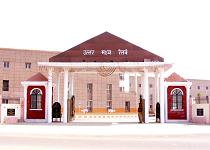 rtland of India, the NCR extends from Mughalsurai(excluding) on the east  and Ghaziabad (excluding) Headquartered at Allahabad, the North Central Railways comprises of the following three divisions.
1.Allahabad
2.Jhansi
3.Agra
NCR also has workshops at Jhansi and Sithouli (Gwalior).The NCR has a total staff strength of 69,644.
For the convenience of both national and foreign passengers there are online services where one can check out the train services, their timings, cancellation rules and others. Trains, like, Chennai Express, Gour Express, Mumbai Mail, Amritsar Express, Poorva Express, Deheradun Express and numerous other trains are part of the North Central Railway (NCR), Allahabad services.
MORE DETAILS
click above to know
more about NCR