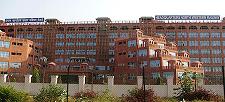 North Western Railway came being on 1st October, 2002. It was carved out of 2 divisions each from Northern and Western Railways. The formation of this zone along with five other new zones was first approved by Railway Board on 16th September, 1996 and foundation stone for this zone was laid on 17th October 1996 by the then Prime Minister Shri H.D. Deve Gowda at K.P. Singh Stadium, Jaipur. The impetus for formation of New Zone came with the Government of India notification no. 97/E&R/700/1/Notification dated 14.06.2002 wherein it was decided that North Western Railway with its jurisdiction over existing Jaipur and Ajmer divisions of Western Railway and Jodhpur and Bikaner divisions of Northern Railway was to come into effect from 1.10.2002.
The North Western Railway is one of the sixteen railway zones in India. It is headquartered at Jaipur. It comprises four divisions: Jodhpur and reorganized Bikaner division of the erstwhile Northern Railway and reorganized Jaipur and Ajmer divisions of the erstwhile Western Railway. This zone came into existence on October 1, 2002. This railway comprises a total of 578 stations covering a total of 5449.29 route km out of which 2575.03 are broad gauge and 2874.23 are metre gauge.
Facts and Other Statistics
Consisting of four divisions, this railway has a total of 578 stations covering a total of 5449.29 route kms out of which 2575.03 are broad guage and 2874.23 are metre guage. The total track kilometers of this railway, however, are 6559.546 kms. The four divisions are Ajmer, Bikaner, Jaipur & Jodhpur. Jaipur & Ajmer divisions were originally part of Western Railway and Bikaner & Jodhpur were part of Northern Railway. The total number of trains dealt by North Western Railway amounts to 452 out of which BG trains total 264 and MG trains total 188.
Divisions
Ajmer Division
Jaipur Division
Bikaner Division
Jodhpur Division
Places like Ajmer, Udaipur, Dwarka, Rajkot, Ahmedabad, Junagarh, Varanasi, Haridwar and several other important cities are connected by trains plying in the North Western Railway zone.
MORE ABOUT US
click above to know
more about NWR Railway
Sponsored Links