Amritsar railway station is located in Amritsar district in the Indian state of Punjab and serves Amritsar.The Sind, Punjab and Delhi Railway completed the Multan-Lahore-Amritsar line in 1865. Amritsar-Attari section was completed on the route to Lahore in 1862. The 78 km (48 mi) long Amritsar–Khem Karan railway line runs through Tarn Taran and Patti. A 54 km (34 mi) long line links Amritsar to Dera Baba Nanak on the bank of the Ravi.The 107 km (66 mi) Amritsar–Pathankot route runs through Batala and Gurdaspur.The 1,676 mm (5 ft 6 in) wide broad gauge Amritsar-Pathankot line was opened in 1884.
Amritsar is amongst the top hundred booking stations of Indian Railway. Amritsar has also became the first railway station in the state to be wifi-enabled.With this announcement,concerns are also raised to increase the capacity of the railway station from current 6 platfroms to 12 platforms and make it on the standards of the International Airport as it is the most important and the busiest railway terminus of the state.2 more esclators would be installed in the station from Platform 5 as Platform 1 has already 2.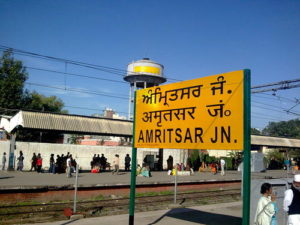 Amritsar railway station is at an elevation of 233 metres (764 ft) and was assigned the code – ASR. With this,it has become the busiest railway station of the state in terms of passenger movement and train traffic.In the 2016 railway budget,Government has aimed the beautification of the railway station as it is the main station of the holy city. The railway station is the first and only wifi-enabled in the division and has also gone CCTV enabled recently. In the recent Railway budget,it has been mentioned that Amritsar Junction will be beautified due to its importance in various fields.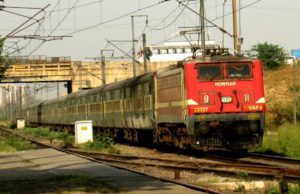 Some trains are originate and passes through Amritsar Railway Station
19225: Bhatinda – Jammu Tawi Express
19226: Jammu Tawi – Bhatinda Express
12204: Saharsa Garib Rath
74682: Amritsar – Khem Karan DMU
74651: Amritsar – Derababa Nanak DMU
54611: Amritsar – Pathankot Passenger
12014: Amritsar Shatabdi
12242: Amritsar – Chandigarh Duronto
12716: Amritsar – Nanded Express
12358: Amritsar – Kolkata Super Fast Express
12484: Amritsar – Kochuveli Express
14616: Amritsar Lal Kuan Express
12318: Akal Takhat Express
12460: Amritsar – New Delhi Express
15210: Amritsar – Saharsa Jan Seva Express
Sponsored Links