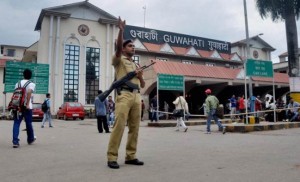 Guwahati Junction is located in the heart of Guwahati, Assam. Just behind the Guwahati Railway Station is the Assam State Transport Corporation Bus Station. This is in the Paltan Bazaar area of Guwahati from where most of the private bus companies operate connecting Guwahati with the rest of the state and the Northeast.[1]
To reduce the traffic on the Guwahati junction, there is another railway station in the city at Maligaon is Kamakhya railway station. Almost all newly introduced trains run from Kamakhya station only. There were plans to make a new railway station at Beltola (in the southern part of Guwahati) to introduce trains towards Shillong. Plans have not been finalized and still in process.
Guwahati lies between the banks of the Brahmaputra River and the foothills of the Shillong plateau, with LGB International Airport to the west and the town of Narengi to the east. It is gradually being expanded as North Guwahati to the northern bank of the Brahmaputra. The noted Madan Kamdev is situated 30 kilometres (19 mi) from Guwahati. The Guwahati Municipal Corporation (GMC), the city's local government, administers an area of 216 square kilometres (83 sq mi), while the Guwahati Metropolitan Development Authority (GMDA) is the planning and development body of greater Guwahati Metropolitan Area. With an area of 1,528 square kilometres (590 sq mi), Guwahati is the second-largest metropolitan region in eastern India, after Kolkata.
The Guwahati region hosts diverse wildlife including rare animals such as Asian elephants, pythons, tigers, rhinoceros, gaurs, primate species, and endangered birds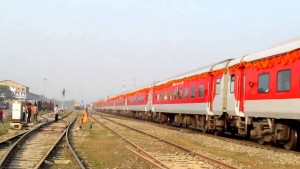 Other Stations:
There are few other stations in and around the city accessible area. They are Narengi, New Guwahati, Azara, Amingaon, Rangiya, Changsari, Digaru and Agthori.
Kamakhya Junction Railway Station : This station is located some 10 km from Guwahati city, and is a preferred station for tourists visiting the Kamakhya temple of goddess Kamakhya.
Narengi station : Among these Narengi station is used only for halting trains coming from north-eastern states. As such there are no facilities at the station.
New Guwahati station :This station is used for freight services as it is close the Guwahati refinery.
Azara station : This station is near Lokpriya Gopinath Bordoloi International Airport, but it lacks proper facilities and needs to be properly operational to handle trains.
Amingaon station : This is on the northern side of the city was the old station when the Saraighat bridge was not constructed.
Agthori station : The station Agthori is on the north Guwahati side near the Indian Institute of Technology Guwahati, but it lacks basic amenities and so it is not used.
Guwahati railway station has 3 double-bedded deluxe and 2 double-bedded non deluxe AC retiring rooms; 2 five-bedded, 2 double-bedded Non AC retiring rooms and a 12 bedded dormitory. There are 7 platforms in the station and they are interconnected with foot over bridge.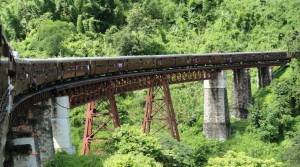 Some Important Trains are originate and terminate through the Guwahati Junction:
55801/02:Manas Rhino Passenger-New Bongaigaon-Guwahati
55615/16:Guwahati – Silchar BG Fast Passenger-Guwahati-Silchar
12067/68:Guwahati Jorhat Town Jan Shatabdi Express-Guwahati-Jorhat Town
12345/46:Saraighat Express-Howrah Junction-Guwahati
12235/36:Dibrugarh Rajdhani Express-Dibrugarh-New Delhi
12423/24:Dibrugarh Rajdhani Express-Dibrugarh Town-New Delhi
12435/36:Dibrugarh Rajdhani Express-Dibrugarh Town-New Delhi
12501/02:Poorvottar Sampark Kranti Express-Guwahati-New Delhi
12505/06:Guwahati Anand Vihar Terminal North East Express-Guwahati-Anand Vihar Terminal –
12507/08:Guwahati Thiruvananthapuram Express-Guwahati-Trivandrum
12509/10:Guwahati Bangalore Express-Guwahati-Bangalore
12513/14:Guwahati – Secunderabad Express-Secunderabad Junction-Guwahati
12515/16:Guwahati Thiruvananthapuram Express-Trivandrum Central-Guwahati
12517/18:Kolkata – Guwahati Garib Rath Express-Kolkata-Guwahati
12525/26:Dibrugarh – Kolkata Express-Kolkata-Dibrugarh
14055/56:Brahmaputra Mail-Dibrugarh-Delhi Junction
15603/04:Kamakhya Ledo Inter City Express-Kamakhya-Ledo
15605/06:Kamakhya – Dibrugarh Intercity Express-Kamakhya-Mariani
Sponsored Links