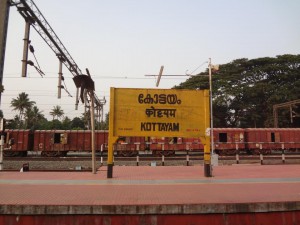 Kottayam railway station is located in Kottayam, Kerala state, India. Kottayam railway station is managed by Southern Railway. Kottayam lies on the busy rail route between Thiruvananthapuram and Ernakulam. The station is served by several long distance trains connecting most major cities in the country on a daily basis like New Delhi, Mumbai, Chennai, Bengaluru, Hyderabad, Coimbatore, Bhopal, Pune and Mangalore.
Kottayam railway station has 3 platforms for handling long distance and passenger trains.A railway goods shed is also situated at the station.The station is located at Nagampadam which is at a distance of 2.5 km from Kottayam town.
Kottayam railway station is the nearest railway station which caters to famous tourist destinations like Kumarakom, Vagamon and pilgrimage sites Bharananganam, Kanjirappally and Vaikom Temple.Kottayam railway station is also used by pilgrims going to Sabarimala temple.During Sabarimala pilgrim (Mandala) season, state transport bus operates from this station.
The works for the meter gauge project between Ernakulam and Kollam commenced on 24 December 1952. The meter gauge railway line from Ernakulam to Kottayam was completed in 1956 and was formally inaugurated on October 1956. The meter gauge line was later extended to Kollam on 1958 and was inaugurated on 6 January 1958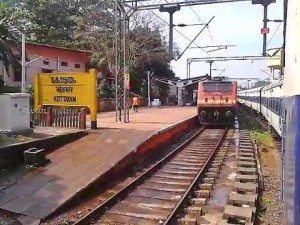 About Kottayam:
Kottayam is a city in the Indian state of Kerala covering an area of 55.40 square kilometres (21.39 sq mi). It is the administrative capital of Kottayam district and is located in south-central Kerala with a city population of 129,894 and UA population of 357,533 according to the 2011 census.
The city is an important trading centre for spices and commercial crops, especially rubber. Major Kerala print media publications such as Malayala Manorama, Deepika and Mangalam are headquartered in this town. Also a pioneering centre of modern education in Kerala, Kottayam became India's first city to achieve 100% literacy in 1989 while the district became the first tobacco free district in India on September 28, 2008. The city is also widely known as Akshara Nagari (City of Alphabets) in honour of its contributions to print media and literature. It is known as the "Land of Letters, Lakes and Latex" on account of the upsurge in literacy, the presence of a vast network of rivers and canals, which empty into the great expanse of the Vembanad lake, and the sizable volume of natural rubber produced here.
Kottayam railway station is situated in the heart of the town and is under the administration of the Southern Railway. Kottayam lies on the busy rail route between Thiruvananthapuram – Kollam – Ernakulam and is served by several long distance trains connecting most major cities in the country, like New Delhi, Mumbai, Bengaluru, Hyderabad, Kolkata, Chennai and Ahmedabad
The culture of Kottayam is influenced mainly by the large Syrian Christian community. The cuisine of Kottayam is the same as rest of Kerala, but with a distinct Syrian Christian influence seen in the use of coconut and spices, as well as beef, pork and sea food in Kerala cuisine.
Restaurants in the city also serve Kerala, Tamil and Northern cuisines. Kumarakom, the major backwater tourism destination on the outskirts of the city, has several luxury hotels and resorts including those of reputed hotel chains such as Taj, Zuri and Casino.
Margamkali and Arjuna Nritham are popular dance forms. Margamkali and martial arts such as Parichamuttukali are popular among the Syrian Christian community. It is performed by men and women separately. In the past, it was performed during Syrian Christian weddings. Arjuna Nritham, also known as Mayilpeeli Thookkam is a popular dance form performed by men. Besides these, other South Indian dance forms like Bharatanatyam, Mohiniyattom, and Kuchipudi and classical Carnatic music are also practiced by a large number of young people.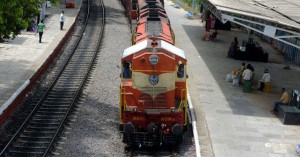 Some Trains are Originate and passes through Kottayam railway station:
16347:Mangalore Express
16348:Trivandrum Express
16343:Amritha Express
16344:Amritha Express
12777:Kochuveli Express
12697:Trivandrum Express
22114:Trivandrum Kochuveli Lokmanya Tilak Super Fast Express
22653:Nizamuddin Express
15905:Dibrugarh Vivek Express
15906:Vivek Express
16561:Yesvantpur – Kochuveli AC Express
12695:Trivandrum Express
16630:Malabar Express
56386:Kottayam – Ernakulam Passenger
Sponsored Links