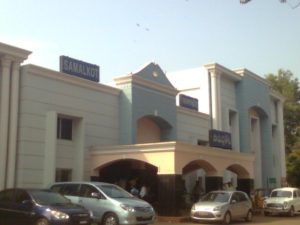 Samalkot railway station is an Indian railway station in Samalkot of East Godavari district in the Indian state of Andhra Pradesh. It lies on the Howrah–Chennai main line and the junction station for Samalkot–Kakinada Port branch line. It is administered under Vijayawada railway division of South Central Railway zone. It is 65th most busiest railway station in India
Samalkot railway station is an 'A'–category station. It is recognized as a Model station and Touch & Feel (Modern Stations) in the Vijayawada railway division
Between 1893 and 1896, 1,288 km (800 mi) of the East Coast State Railway, between Vijayawada and Cuttack was opened for traffic. The southern part of the East Coast State Railway (from Waltair to Vijayawada) was taken over by Madras Railway in 1901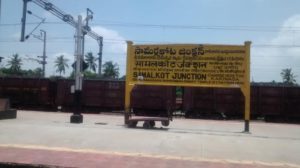 About Samalkot:
Samalkota is a town in East Godavari district of the Indian state of Andhra Pradesh
The Andhra Pradesh State Road Transport Corporation operates bus services from Samalkota bus station. Samarlakota railway station is an important railway junction on the Visakhapatnam-Vijayawada section of Howrah-Chennai main line. The railway line to Kakinada branches at this railway junction.
Samalkot is a Municipality city in district of East Godavari, Andhra Pradesh. The Samalkot city is divided into 18 wards for which elections are held every 5 years. The Samalkot Municipality has population of 56,864 of which 28,115 are males while 28,749 are females as per report released by Census India 2011
Sri Chalukya Kumararama Sri Bhimeswaraswamy vari temple, prasanna anjaneya swamy temple,Peddapuram Road, Ganapathi Temple, Mehar complex, muthyalamma thalli temple, kakinada Road, Sai Baba Temple, station centre, are famous temples in Samalkot. centenary baptist church, augustana lutheran church,andhra baptist churches are famous churches in samalkot.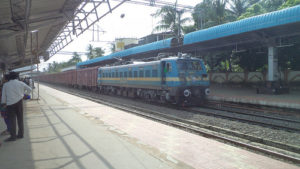 Some Trains are Originate and passes through Samalkot railway station:
57272:Rayagada – Vijayawada Passenger
82853:Visakhapatnam – Villupuram Suvidha Special
11020:Konark Express
12704:Falaknuma Express
12375:Chennai Asansol Express
22852:Mangalore Central – Santragachi Super Fast Vivek Express
12836:Yesvantpur Hatia Express
12846:Bhubaneshwar Express
12552:Kamakhya Yesvantpur AC Express
22883:Puri Yesvantpur Garib Rath
17480:Tirupati – Puri Express
17482:Tirupati – Bilaspur Express
12551:Yprkyq AC Express
18519:Visakhapatnam – Lokmanya Tilak Express
17479:Puri Tpty Express
Sponsored Links