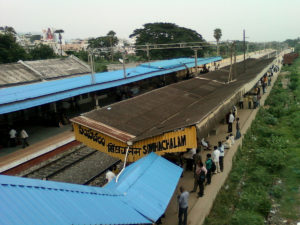 Simhachalam railway station, located in the Indian state of Andhra Pradesh, serves Simhachalam in Visakhapatnam district.It lies in Howrah-Chennai main line.
Between 1893 and 1896, 1,288 km (800 mi) of the East Coast State Railway was opened for traffic. In 1898-99, Bengal Nagpur Railway was linked to the lines in southern India.
Visakhapatnam Steel Plant was established in the 1980s and the first coke oven battery was commissioned in 1989.
About Simhachalam:
Simhadri or Simhachalam is a Hindu temple located in Visakhapatnam city suburb of Simhachalam in Andhra Pradesh, India. It is dedicated to Lord Narasimha (the man-lion), an incarnation (avatar) of Lord Vishnu. The central shrine was built in Kalinga architectural style. The Kshetrapalaka of Simhachalam is Kalabhairava and pilgrims must visit the Kalabhairava Temple in the area prior to visiting the Narasimha Swamy temple.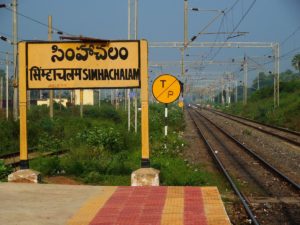 "Simha" in Sanskrit means lion; "Adri" or "Achala" in Sanskrit means hill. The temple is located at the top of a hill; hence the temple is called Simhachalam. Sri Varahalakshmi Narasimha Swamy, the lion-man incarnation of Lord Vishnu, is the presiding deity of the temple. The temple is one of the eighteen "Narasimha Kshetras", the shrines of Lord Narasimha, in India. The deity is usually covered with sandalwood paste year round and can be seen without sandalwood ("nijaroopa darshan" – holy appearance in true form) for only 12 hours per year. On Akshaya Tritiya Day, the deity is re-covered with sandalwood paste. The festival of 'Chandana yatra' or 'Chandanotsavam' falls every year in Vaisakha (May)
Simhachalam Railway station is 11.1 kilometres from Simhachalam Temple.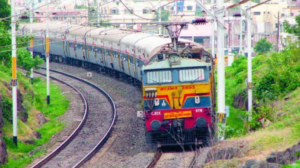 Some trains are originate and passes through simanchalam Railway Station:
18646:East Coast Express
18645:East Coast Express
58528:Visakhapatnam – Raipur Passenger
18515:Tatanagar Visakhapatnam Express
17480:Tirupati – Puri Express
17482:Tirupati – Bilaspur Express
58506:Vishakapatanam – Gunupur Passenger
18517:Korba – Visakhapatnam Express
12807:Samta Express
67291:Vizianagaram – Visakhapatnam MEMU
58538:Visakhapatnam – Koraput Passenger
58501:Visakhapatnam – Kirandul Passenger
22853:Kolkata Shalimar – Visakhapatnam Super Fast Express
17016:Visakha Express
13351:Dhanbad Alappuzha Express
Sponsored Links