Advertisement Notice No. 29/29/83E (Med. H.C.) Vol.VIII
Indian Railways,
Diesel Locomotive Works,
Varanasi.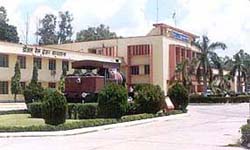 Applications are invited to fill up the One vacancy of the Full Time Physician and One vacancy for full time obstetrician & Gynecologist in DLW/Hospital on contract basis. In case appropriate Specialist not available, General Duty
Doctors will be entertained. Details of particulars are as under :-
No. of posts :- 02 (TWO)
Period:– One year from the date of engagement. It may be extended up to 05
years on the basis of satisfactory performance.
Place of working: – DLW Hospital.
Required qualifications:–
(i) Post Graduate Degree in Medicine & Gynecologist/Pediatrics with registration by Medical Council of India/ State chapter.
(ii) M.B.B.S. with registration by Medical Council of India / State chapter.
Age:– Not more than 50 years from the date of notification (i.e. 16-03-2011).
Monthly Honorarium:- Remuneration Rs. 39,400 + Rs. 5250 House Rent
Allowance + Rs. 3712 Transportation allowance = Total Rs. 48,362/-.
Duty:- Contract doctor will work equivalent to the ADMO.
Interview for the above posts has been fixed on 08-04-2011.
Willing and eligible candidates should report at 10.00 hrs in General Manager (Personnel) Office. Candidates must bring required documents like, mark sheets of MBBS & degree etc. If worked in Railway Hospital prior to this, certificate of the same should also be enclosed.
APPLICATION FORM
click above to download
the application form now
Sponsored Links